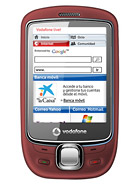 d
Anonymous, 31 Jan 2010vodafone is the number one best network i have ever experienced.I never new until i bougtht on... morewhere is the software avlable
B
Well, I'm a mobile phone salesman and I can asure you that this is one of the worst phones we have available... Still I think it's stupid to compate such a low-range phone with SE's Aino.

This phone is obviously just a low-cost solution for people that really really want to have a touch phone! Aino is a top-range phone? Who on their right mind would compare this two phones?

Anyway... this phone is total rubbish! DO NOT BUY IT!
M
this phone suck! 1.3mp camera? 2g?!@# wew?...
it might be a good paper-weight..

it may look enticing with its touchscreen capability but there are a whole-lot more better phone out there
check out the Sony Ericsson AINO!!! 12Mp Cap
now thats Fabulous!!!
?
i think this is one of the best network in india,and also it provides variety of features to custmers
?
vodafone is the number one best network i have ever experienced.I never new until i bougtht one which i enjoyed most.Everybody should go for vodafone and enjoy the benefits of being the subscriber of vodafone. contact: 0246324212
name: musah alale
address:box co 599 Tema Accra.



n
yo que se!!!!! yo que se!!!! estuve viendo el movil yyyyyyyy yo que se!!!!
Total of 15 user reviews and opinions for Vodafone Indie.