Gold is back in fashion, haven't you heard? We obtained a snapshot of the Vodafone's inventory system, which confirms that the mobile carrier will indeed be selling a gold version of Samsung's upcoming flagship: the Galaxy S5.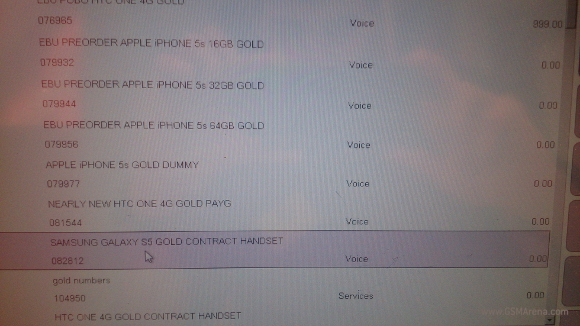 The proof is in the pudding: you can see the Gold S5's name and model number amongst its other golden smartphone brethren: the iPhone 5S and HTC One 4G.
The Samsung Galaxy S4 also got a couple of gold versions, but those only arrived a few months after the smartphone went on sale. This time however it appears that the third hue will be available from day 1. Anybody interested in picking up a bling'ed-out Galaxy S5?
A hat tip to Mr Rabbit for sending this in!
J
Samsung Sucks.... Cheap Quality plastics used.Back panel feels like paper which can be broken evn by a small child
h
You're just that stubborn, aren't you? I can't help you then. If you don't want to accept reality, that's your problem.
A
want to address something...just ignore Anonymous comments, a real dumb explanation!