The HTC Desire C is not a stranger anymore. We've seen it star in not one, but two blurry photo sessions. However, this is the first time we get to see it in its proper attire - via a leaked press shot. Obviously, Vodafone Portugal jumped the gun on this one and included it in its May catalog even before the thing was announced.
Leaked specs and photos are the bread and butter of this job, so we are more than happy to introduce you to the HTC Desire C.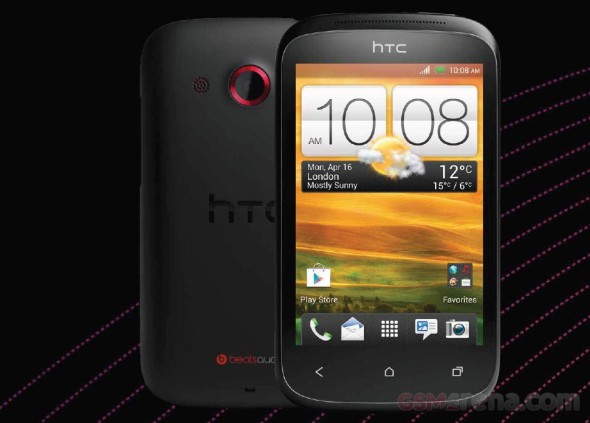 As you'll see below, the catalog also sheds some light on the specs of the device. Here's what we have confirmed for now: The HTC Desire C has a 3.5-inch screen with 320x480 resolution and runs on a 600MHz processor. Connectivity-wise it's 3.5G, whatever that means, but we're guessing it's HSDPA. The handset also has 4GB of internal memory and a 5MP camera. But most importantly, this low-spec'd device will run Android Ice Cream Sandwich.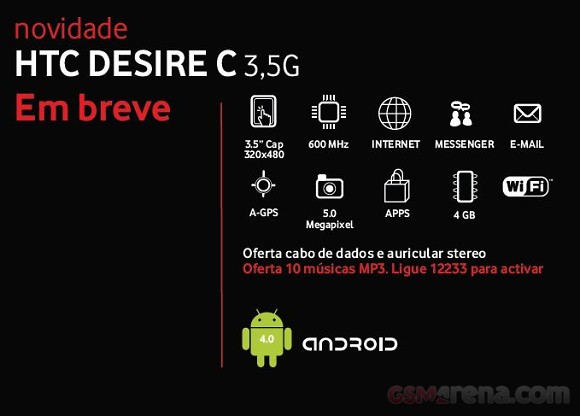 According to one of our tipsters, the Desire C has a 1230 mAh battery and should retail below 200€. After all these leaks, we should see the smartphone announced rather soon.
Thanks for the tip, Filipe and Daniel!
D
i use htc chacha, the torch screen has ceased completely what do i do? 2. how the phone memory be upgraded because my memory is full and i can no longer download applications 3. how can the keyboard be use to enter the main menu?
c
I have a rooted wildfire s running ICS and its very fast in comparison to many other 600mhz phones
y
yeah boy after 2 yeah they announce a mid range phone ...
ADVERTISEMENTS