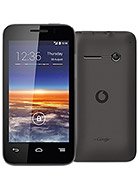 D
not bad for £50 camera is good for low pixels scorez more than my s2 on benchmark tests a very not bad phone only problem is it has to be one of the most slippy phones i have owned! so hold it tight :-)
d
just got it..for free at 2years plan, 13euro/month (i think its free for plans starting at 10e/month)..i bought it because its free, i use a nokia 520 and got this one for a secondary phone..it looks nice, i got the white one..now i dont have time for a review, i will return in a week with an opinion..btw, in romania it cost 60E with no contract (prepaid) and it comes for free for 2year contract starting from 10e/month (the cheapest dualcore with 4inch screen on market, better that samsung galaxy young). Happy Easter
D
In Czech Republic its on sale for around 70€ incl. 10€ prepaid credit (and the phones are Unlocked in our country, even as prepaid sets).

For that money its really not bad. I understand the strategy for the cheap compromise, so it has minimum RAM to run with no extras. But what would one expect for 60€ right? ;-)
D
I think a phone of this spec should av 1 gigbyte ram and flash. Id pay the little extra for that. Come on vodafone stop dragging ya feet.
s
well its good enough that in 60 eur company giving 4 inch phone with ppi 233 & 512 ram is not so bad with 4gb internal storage bt please as it is launching can anybody tell me that 3.5 cam is real or just name only........Pls Give response
D
Its ok if 512 mb ram but it atleast should have had an flash for back camera
Total of 269 user reviews and opinions for Vodafone Smart 4 mini.