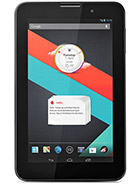 ?
Cjc, 03 Jun 2014Can anyone tell me how much RAM memorie has this tablet?1.2 g
D
I'm flabbagasted guys, on your website you say this tablet can't make and receive calls while on Vodafone and youtube videos they say it can receive calls. Who must be believe?I wanna buy it but I'm confused now
D
Kishor, 01 Jan 2014What is the pad lock password for this tab Also when i m insurting simcard it is asking fo... moreYou have to go to a phone shop,and ask for the unlocking code which can be taken paying by credit card.It will cost an avarage of 30 dollars.
Total of 50 user reviews and opinions for Vodafone Smart Tab III 7.