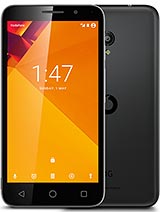 ?
For 49 GBP you can't go wrong. Seems quite well made and works perfectly well.
A
Pretty rubbish phone, screen is terrible you have to have it directly facing you to see it properly.. Dark parts of images are very hard to see. Scrolling is very slow, the precision of the touch screen is also bad. Its also pretty slow and force closes apps all the time, can't keep apps open without having to restart them and struggles to keep a few web pages open which is annoying. Definitely avoid and get something else. Cheap for a reason.
?
I have it, three days older in my possession but the big problem i have discovered is the poor battery. It takes long to charge and it stays for less than 6hrs
t
Ican not see how Vodafone can charge £11.00 more than Argos for the Vodafone turbo smart 7 and nothing to show how to used it.
J
Rakib, 25 Dec 2016I just buying before 2 weeks,this phone have lot of problem,take long for battery charge, batt... moreI know but if your willing get a charger with power IQ it has helped me immensely
R
I just buying before 2 weeks,this phone have lot of problem,take long for battery charge, battery backup also low,when I make video call in 5 minute phone is so hot,browsing speed low,not working nicely all apps,app permission apps making tomuch problem.my money is worst with this phone
K
Just bought this phone about a month ago already its just presses itself after unlocking it REALLY DISAPPOINTED just waste of money
9
I bought the phone 1 week after its release everything about it is perfect except for the battery, the battery don't last longer and it takes forever to charge it because it don't have fast charge technology and u must install one to charge it faster. Very bad phone
v
Lol why so little people interested in this phone it have decent specs it beats the Samsung galaxy j1 mini LTE via price point and others in the class it got really good chipset Mediatek MT6735M Quad-core 1.0 GHz Cortex-A53 Mali-T720MP2
?
Jerzy, 21 Oct 2016I bought this mobil last week - new one ,but it was without any fitting instruction,please let... morehave you never you never used a phone before? just tap on the messages button, its on the homescreen
525
Unrootable with Kingo or Kingroot etc...
alot like a Moto, without all the jokerola apps...
Snappy to use, but annoying long boot time to say it's stock & I haven't messed with data partition..
I'd rather have alcatel Popstar, which is 1click root..
Total of 33 user reviews and opinions for Vodafone Smart Turbo 7.