It's been several months since Sony Ericsson introduced their first Android-powered smartphone - the XPERIA X10. Rumor has it that it will start shipping in the UK this month. Or was it next month? The X10 release date is getting increasingly mysterious now that we have a third, more trustworthy version - the XPERIA X10 will actually head for UK stores in April. Or perhaps it's Vodafone UK stores only?
That's why you can't trust rumors - there are so many of them and all change by the hour. At first we expected the Sony Ericsson XPERIA X10 to start selling in February. According to another rumor the Android-based phone should actually show up in T-Mobile UK's stores in March, which was reconfirmed by other sources today as well.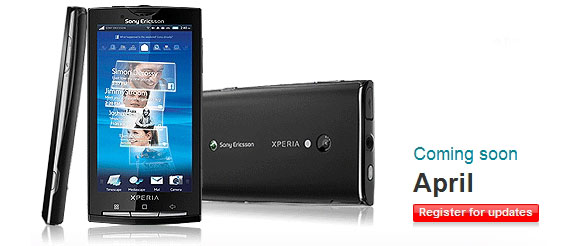 At least one thing is for sure: the Sony Ericsson XPERIA X10 will head for Vodafone UK sometime this April. The operator's website advertises an "April release date" for the hot smartphone. Sadly, there is still no word on pricing.
April is still two months away. That's enough time for a bunch of other rumors to spawn, so stay tuned, we'll keep you informed.
v
Staff at t-mobile UK have had their demo and intro to the Xperia X10 and expect it to launch within the next two or three weeks, assuming no probs.
?
Its a defo for Virgin! Released 1st week in Apr on £30 tariff.
?
Japan website stated April too.
ADVERTISEMENTS