Vodafone UK announced that their customers who have pre-ordered the Google Nexus One will be getting it as soon as 30 April, which is just in four days.
If you're waiting for in-store availability, that will probably take up to the 5 of May. Pre-orders are still open though.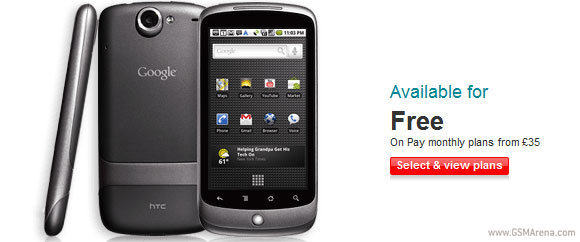 If you remember, we told you that it's going to happen that way. However, to purchase the Nexus One you don't have to go to google.com/phone. Instead, you can visit Vodafone UK's website.
Of course, you'll also have to sign an 18- or 24-month contract with the operator. Tariffs start from 25 GBP (around 29 euro). And if you go for a 35 GBP monthly price plan you'll get the Nexus One for free (a 2-year contract is required in this case).
As any other phones in the UK based on Android OS v1.6 or higher, the Google Nexus One will come with the free Google Maps Navigation app on board.
a
We don't have such a problem here in the US, bill. It's multi tasking function works flawlessly. And I'm sure the ones that are being sold in the UK work just fine too. It's simply a great phone and you won't regret it!!
?
It would have been in want if it had been available before Desire. Now it is now just like chicken ribs, not much meet on them at all.
M
Why would u get the Nexus that lock to Vodafone when you can get the DESIRE that sim free in most stores and it a better phone.. EG no trackball on the DESIRE, Stereo FM radio with RDS and so on...
ADVERTISEMENTS