With the iPhone nearing its annual refresh cycle, Walmart has jumped the gun and put the current Apple smartphone offering in the discount corner to make space for the upcoming iPhone.
As a result, the Apple iPhone 4S and Apple iPhone 5 have both seen their prices slashed significantly. Walmart now sells the iPhone 5 for $129, down from $189, while the iPhone 4S is discounted from $89 to $39.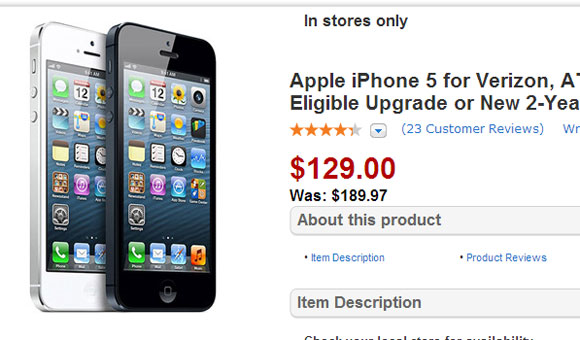 The deals are only available with new 2-year contracts with either AT&T, Spring or Verizon. T-Mobile isn't offered, as Walmart doesn't support the carrier. Other major brick and mortar retailer Best Buy is also reportedly planning to slash the price of both Apple smartphone devices by offering in-store credit.
The Apple iPhone 5S is expected to go on sale later this year. As a purported iPhone 5S live image showed, it is not going to be a completely redesigned product but more of a faster, more refined version of the current iPhone 5.
Source
|
Via
?
I hope you realize we can tell you just replied to yourself. And not only because your wording either
s
Hi dude whats up this mobile apple iphone4S is lovly modle in all mobiles n what would you like gyes
M
Apple iphone is a ossam gejet in aii mobiles i love this iphone 4S
ADVERTISEMENTS