Watch the Tesla Autopilot drive the car around the neighborhood on its own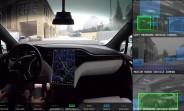 Tesla has released a new video demonstrating its impressive Autopilot self-driving system, found on its Model S and Model X vehicles.
In the latest video, you see the Model S being driven around the neighborhood entirely by the Autopilot system. Although a person is present in the car, it is only for legal reasons as cars aren't yet allowed to drive around on their own without a person present.
In the video you also see what the car sees through the output of its various cameras. We can see how it identifies various objects around the environment and marks them with different colors. It can identify vehicles, people, roadside objects, signs, signals, and lane markings. The car then moves around, accelerating, braking, and turning on its own depending upon the road markings, signals, and presence of other vehicles and people on the road. Eventually the trip comes to a stop, where the person gets off and the car also parks itself.
You can watch the full video of this impressive demonstration below.
?
The Rolling Stones - Paint It, Black
?
But people make MORE accidents. What do you prefer? The car of today is killing people worse than any catastrophe