Xiaomi has hinted that it will have not one but two flagships announced tomorrow, however, the manufacturer made it clear that the Xiaomi Mi 5 will not be one of them, despite benchmark score and other leaks about it. What does this leave?
The Xiaomi Redmi Note 2 is a good bet – its Redmi 2 sibling launched last week. The new Redmi Note is expected to have a bigger, sharper screen (5.7" 1080p) than its predecessor and be powered by Qualcomm's mid-range Snapdragon 615 chipset with an octa-core 64-bit processor.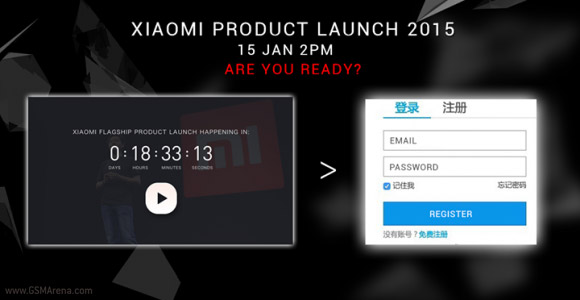 International cost is expected to be around $250, but the second phone that may be announced tomorrow will cost just $65. Based on the Xiaomi Redmi 2, but with a Leadcore chipset, the new phone will redefine the entry-level with pretty impressive specs – 4.7" 720p screen, Android KitKat-based software, 8MP/1080p camera and LTE.
Then again, there's the Xiaomi MiPad 2, which may swap out the Tegra chipset for an Intel one. It will reportedly keep its iPad mini-like screen but will adopt a more rectangular design.
There's also talk of a Snapdragon 810 device making an appearance, alongside a Snapdragon 801 device, but details on those are scarce.
All this is speculation, of course, you can watch the livestream over at Xiaomi's website, but you'll need to know Chinese. The video below promises an English commentary and you can follow Xiaomi's Facebook and Weibo accounts for timely info.
You can watch the original stream in Chinese right here:
The event starts at 2 PM Beijing time (that's 6 AM GMT), but in case you sleep through it we'll have the official info up for your perusal.
D
At the current rate of smartphone innovation it looks like upgrading will become necessary every six months (whereas before, it was more like annually). I love my RedMi Note but I think it just lost half or it's resale value today.
l
xiaomi NOTE (Snapdragon 801, Adreno330, 3gb RAM, 5.7inch FHD, 13MP Sony lense, 4mp Ultrapixels front camera) CNY2299 (around $350) xiami NOTE "Premium Edition" (Snapdragon 810, Adreno 430, 4gb RAM, 64gb ROM, 5.7inch QHD,camera remain same...
?
Detailed video of Xiaomi Note 2 designing https://www.youtube.com/watch?v=P76k2byHro8