As we say goodbye to year 2011, we cannot help but have a look back at all the work we've done.
Thanks to you, our readers, it's been a successful year for us at GSMArena.com. This year you pushed our website up in the list of the Top 500 websites globally (currently at the 429th spot), according to the independent internet statistics Alexa.com. We cannot thank you enough for that.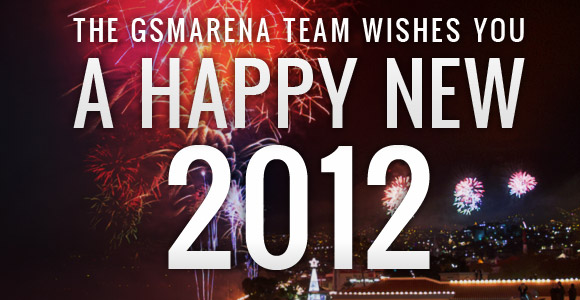 Image by Hypocentre
We also introduced numerous new features and fine-honed existing ones.
One thing's for certain, it's been the year of the video and social networking for us - a quite natural consequence of the global trends. Our YouTube video channel ramped up more than 20 million video views this year alone (a 200% increase over 2010) and we're still going strong. We even dipped our toes in producing some full video phone reviews.
Our blog has been on the rise too, coming up in leaps and bounds in the past 12 months. Our coverage there included regular tech news in all sorts of fields but most importantly, we've been spicing it up with exclusive features and articles, which you seem to like a lot (such as our regular phone unboxings, the recently introduced battery tests and our software reviews.)
This year we also enhanced our presence on Facebook, scoring 100,000 likes in a matter of few months of actively participating in the online community.
Our phone reviewing routine saw some changes too. We introduced our Photo Quality and Video Quality Compare tools. We also started measuring mobile displays brightness and contrast in a more scientific way that allows for direct comparisons. And finally, we started reviewing US-only phones in an effort to expand our global reach.
Overall, this year we churned out more than 1400 news articles, more than 1900 blog posts and a total of 264 reviews.
Year 2012 will hopefully be off to a good start too with two of the major industry events just around the corner. In 2012 we will have our first live coverage from the Consumer Electronics Show in the US (starting January 9) and a couple of months later, we'll traditionally report live from the Mobile World Congress (starting February 27).
So once again, thank you so much for your incredible support in 2011, we have some great plans for 2012 and we hope you will stick around to see what we will be up to.
So Happy New Year to you and your loved ones, we wish you peace, prosperity and happiness. Cheers!
l
So what you see pictured up above is how I'm spending my new year's eve. Even though I had invites to two great looking parties, one with friends and one with family, I'm on the couch with the kitties, movies, amaretto and Chipotle. Not the worst way...
R
thanks rayees to saying this
D
guys u r amazing, hats off to you, any info i need, just type gsmarena.com, and i always recommend my friends tto use this site, its rocking :D
ADVERTISEMENTS