Gartner forcasted that 310.4 million wearable devices will be sold worldwide in 2017, an increase of 16.7% over 2016. Sales of wearable devices will generate revenue of $30.5 billion in 2017.
For a category that supposed to be dying that isnít too shabby is it?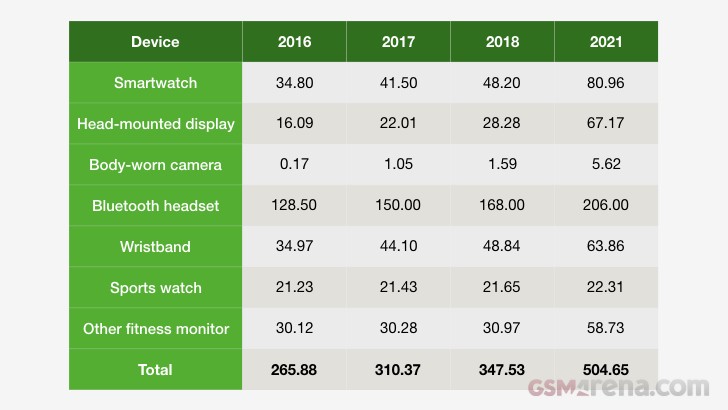 Gartner, Inc forecasted that 310.4 million wearable devices would be sold worldwide in 2017
As the table above clearly shows, the term wearables is a broad category covering more than just smartwatches and fitness trackers as it also encompasses VR headsets, Bluetooth headphones and smart clothing.
Now that we've got the figures out of the way, letís get a sampler of what we may see this year in this category.
Fitbit
Fitbit Ionic Adidas Edition
Late last year Fitbit launched the Ionic, their long awaited smartwatch. It's only now though that we're starting to see additional apps appear and while software updates should ensure that the Ionic only gets better over time we're not sure if that will help prospective customers get over the polarizing styling.
Very soon we will see the Fitbit Ionic Adidas Edition launched. Primarily an exercise in branding, following the formula laid down by the Apple Nike Edition watches, it will be externally distinguishable by its sports-orientated strap while also providing additional training programs from Adidas.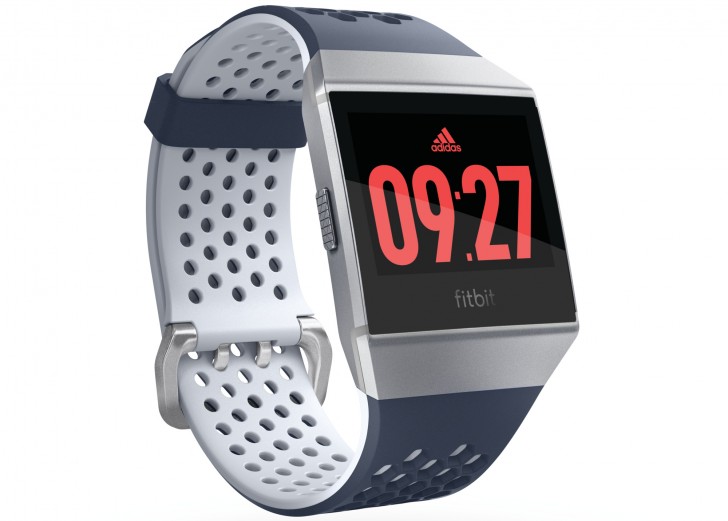 The Fitbit Ionic Adidas Edition
Fitbit Charge 3
The Fitbit Charge 2 was launched in Sept '16 with an inbuilt Heart Rate Monitor (HRM) and rapidly went on to become one of their best selling fitness devices. We used one extensively and our two biggest complaints were the lack of built-in GPS, instead relying on Assisted GPS from your phone, and any form of water resistance.
We expect the Charge 3 to be launched this year addressing both of those. Given the latter we should also see water sport activities included. The Charge 2 brought a substantial redesign so don't expect anything other than some subtle refinements and polish with a more responsive screen.
Fitbit Blaze and Alta
We've heard rumors that the Blaze may be updated but this is likely to be pure speculation, the Blaze overlaps just too much with the Ionic so don't be shocked if Fitbit discontinues the Blaze this year as it focuses on the Ionic.
Regarding the Alta, seeing as the Alta HR was launched in March last year and sits alongside the regular Alta we don't anticipate any updates this year. After saying that we may also see Fitbit rationalize the two Alta lines by phasing out the regular Alta.
Garmin
Garmin Forerunner 645 Music
Music playback is virtually a given when the 'leaked' Garmin Forerunner 645 is launched this year. Garmin is an expert at repackaging the same core innards to address different markets with the Forerunner 645 looking to be based upon the highly commended Vivoactive 3. Two versions will be available with the only difference expected to be the storage of 800 tracks for music playback via Bluetooth headphones. Offline music playback from streaming services is also rumored and while no service has yet been named Spotify would do nicely. With CES 2018 just around the corner we expect the Garmin 645 Music to be announced then.
Along with music playback expect Garmin's excellent health and sports tracking capabilities and Garmin Pay for contactless payment. With the Forerunner series being aimed at runners we may see the touch screen from the Vivoactive 3 dropped and replaced with buttons only.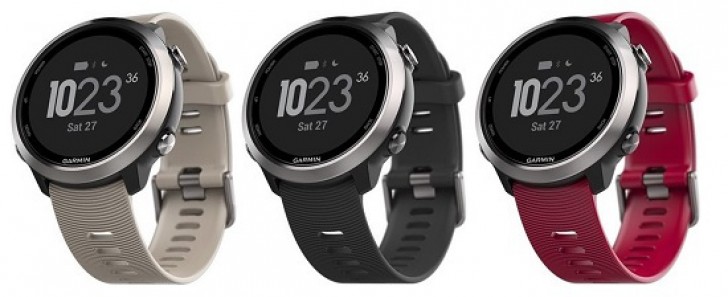 Leaked images of the Garmin 645 Music
Garmin Fenix 6
Garmin launched the Fenix 5 family last year at CES comprising of the 5X, 5 and 5S. We don't expect any major changes but we suspect that Garmin will include the additional tentpole features that its recent launchs had. Primarily Music playback and Garmin Pay. While Garmin Pay is hardware-dependand it be possible that Music Playback could come via a firmware update for certain Fenix 5 models - the Fenix 5X certainly has the storage?
Garmin announced the Fenix 5 series at CES 2017, so there is an outside chance that we could see a similar pattern emerge this year with the Fenix 6 being announced at CES 2018 but made available later in the year.
Apple
Apple Watch Series 4
It's probably a safe bet that we'll see the Apple Watch Series 4 this year in Sept alongside new iPhones.
Continuing with Apples ever-growing expertise in the SoC arena we'll likely see the introduction of the Apple S4 Processor to power the Series 4.
Apple will continue its pivot towards health and fitness with the addition of new fitness related software features, a number of which we'll catch a glimpse of along with WatchOS 5 that is expected to be unveiled at Apples World Wide Developer Conference (WWDC) in the middle of the year. Additional health related features may be enabled by the rumored inclusion of 'smart straps' as adding these to the watch itself require additional FDA approval loops.
Apple has been granted a number of Patents in and around the area of smart straps relating to smart fabrics and health sensors. The inclusion of 'smart straps' could also facilitate additional hardware features such as a FaceTime camera, not one that I'm personally crying out for though.
In my article entitled 'How do we get 3-4 day battery life & when?' I covered that Apple is developing its own Power Management Integrated Circuit (PMIC) for inclusion in future iPhones. Taking this train of thought to its logical conclusion we could also see this implemented in the Series 4 watch to extend battery life by several hours. There's an outside chance that Apple could leverage its investment in Micro LED development this year and introduce the technology in the Series 4 to further extend battery life.
A great deal of column inches have been written regarding the design of the Apple Watch and if/when it will evolve. I suspect that we wont see a major design change and certainly not a move to a circular display this year, redeveloping WatchOS to support such a display would be a major change even without factoring in the effort that the developer community would have to put in. They'll save that one for the Apple Watch X. However, I'm sure we'll see the usual refinements in materials and a plethora of straps introduced though.
Apple AirPods 2
Apple have been unable to keep up with demand for their other wearable, the AirPods. This year we know that Apple will launch a new wireless charging case for AirPods alongside its new AirPower Mat. We'd also envisage that Apple will sell a skew of the AirPods that include the wireless charging case. We also covered that upgraded AirPods will be coming in 2018. All that is known at this stage is that some internal components will be tweaked but its not known if these will provide additional features or simply remove any manufacturing bottle necks.
Apple may take the opportunity to refine the design and improve sound quality while providing noise cancellation capabilities.
Apple has also filed Patents for the inclusion of additional biometric sensors to bring fitness tracking capabilities to future AirPods. We can't confirm whether we'll see any of these features this year.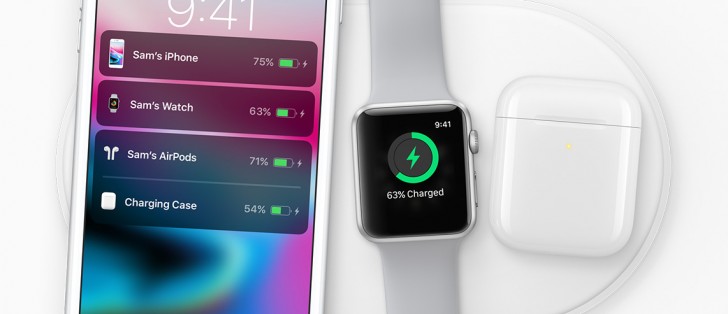 Apples AirPower Mat along with a new optional wireless charging case for AirPods
Apple AR Glasses
Not likely this year, we are mostly including these for completeness, but on the horizon are Apples rumored AR glasses. Recently C.C. Leung, the Vice Chairman of Apple manufacturing partner Quanta Computer was quoted in saying that 'We are working on an AR project and have studied the optical technologies that AR devices have needed since two years ago'.
While he didn't name Apple directly, Tim Cook Apples CEO has spoke at length how he believe AR is the future. We'll see.
Samsung
Last year we were expecting the Samsung Gear S4 but instead we received the Samsung Gear Sport, Gear Fit2 Pro fitness band and the Gear IconX ear buds. Given that, we're expecting the Gear S4 to be launched in the second half of this year.
Borrowing a number of features from the Gear Sport we also expect to see the appearance of Bixby on a wearable for the first time, replacing the often maligned S-Voice.
Samsung has filed or been granted a number of Patents relating to a smartwatch with a built in camera, and additional display elements in the band and around the bezel, so it could surprise us with something from left field.
What is more likely though is a slimmer design in the family with more accurate fitness tracking. As we've mentioned in our previous reviews, more Tizen apps would be greatly appreciated.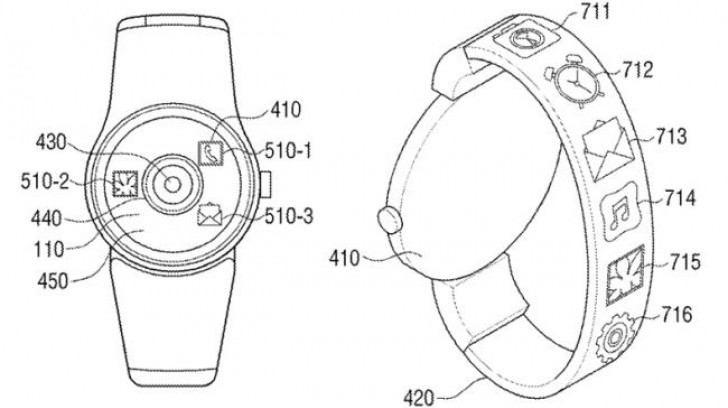 Many many patents never see the light of day.
Huawei
A recently leaked product roadmap details a Q1 launch for the Huawei A2 Band. We wont have to wait long as rumors suggest that it will be announced during CES 2018 . We suspect it will be an entry level offering.
Magic Leap One
These could be a true game changer for AR and while they may look like the goggles from The Book Of Henry they promise to lift AR to the next level. Utilizing a raft of sensors and computing power they provide full spatial awareness that should provide a super realistic mixed reality experience.
With the SDK being released imminently to developers, the Creator Addition should arrive sometime in 2018. The price is a huge unknown at the moment, however the Creator Addition should be followed by a cheaper consumer addition.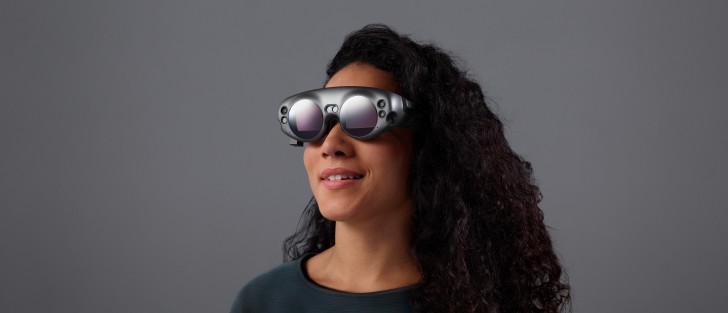 Magic Leap One Augmented Reality glasses will become reality in 2018
Android Wear
The Android Wear category is deep so we'll just pull out a few highlights and observations.
Version 2.0 introduced several new features including standalone apps, Play Store, Android Pay, Material Design, Google Assistant and better fitness metrics. Now aligned with Oreo the latest update launched late in 2017 introduced many minor updates mostly under the hood.
With Apple having the lions share of the market, Google is in a two horse race for second with Samsung. Google may be doing something about that though this year. It's been speculated that the company will 'pixelize' the smartwatch. As with the Pixel phones, a Pixel Watch could be just the boost that Android Wear and Google need.
In the last year alone Google has expanded its Shanghai team from 20 to 150, geographically this is located close to key suppliers. However, this build up of assets may not relate to the Pixel Watch but other initiatives including Pixel Buds or VR headsets.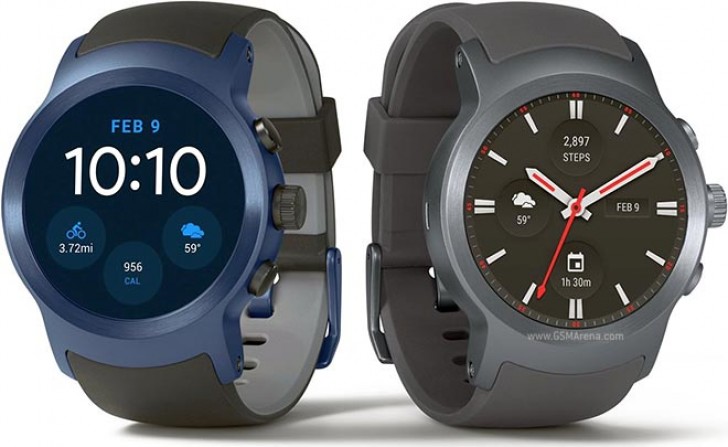 We've been here before. The last rumored Google Watch turned out to be the LG Watch Sport (shown) and LG Watch Style
The majority of Android Wear watches are powered by Qualcomm's Snapdragon Wear 2100 SoC, last year Qualcomm announced the Snapdragon Wear 1200 for entry level wearables. So we have an outside chance that Qualcomm could launch the successor to the 2100 this year, Wear 2200 perhaps? We've heard nothing to support this though and furthermore we suspect that the demand simply isn't there.
It's a similar story for Intel. With the capable Intel Atom Z34XX chipset powering the Tag Heuer Connected and the Balance RunIQ smart watches we donít expect to see a replacement for this SoC this year. Talking of which...
Tag Heuer Connected Modular 39
Tag Heuer launched the Connected Modular 45 in March last year and this was Tag's second smart watch and it's simply the best built Android Wear watch out there. Lacking a heart rate monitor it's not suitable for fitness, but I wouldn't go running with a $1,700 watch so maybe it isn't such a huge loss.
We don't expect to see a replacement until next year but we are expecting the more female friendly Tag Heuer Connected Modular 39 this year. Here's hoping that Tag Heuer don't remove hardware features like the GPS or NFC to get the size down.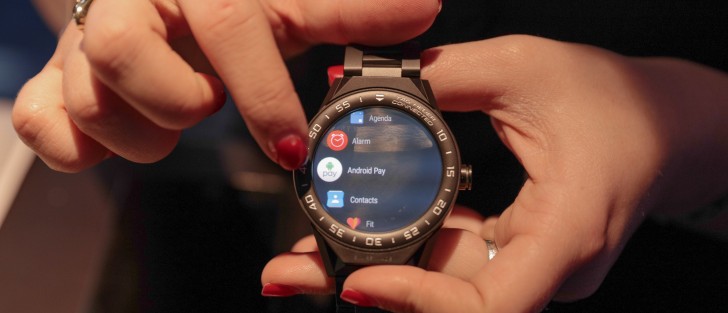 Tag Heuer Connected Modular 45 to be joined by the smaller Connected Modular 39
Hopes and Aspirations
As a category in general while we debate 'what's the killer app' here's our overview of things we'd like to see this year.
Improved battery life
Continued health and fitness tracking improvements and subsequent health insights
Standards to be defined to facilitate cross platform tracking and challenges
Further shrinking of components to further reduce size or allow for a bigger battery
Even greater integration with our other devices. For example, Android today gives me the option to keep a phone unlocked when it detects my watch, can't with iOS
Long Shots
Microsoft Surface Watch
If the rumors are to be believed. Microsoft has hit their stride with hardware design at the moment and the thought of a Surface Watch following the same design trends is intoxicating.
Design aside though, for it to be a success Microsoft will have to nail the hardware, fitness capabilities and supporting app for iOS and Android on its first attempt.
As always, thanks for reading and we know this taster can't cover everything so let us know what you're looking forward to in our comments section below.
D
Happy to find you here again/.. See what I told? We just need some upgrades in battery department to make the smartwatches fly through sky.. then it will be perfect... but which thing in this world is totally perfect?