The smart wearable market grew by 27% in 2018, spurred on by a strong Q4. Apple retained its leading position with a 26.8% of the entire market in 2018 while Xiaomi and Huawei posted much better numbers than in 2017.
IDC has included ear-worn devices into its wearable category (as long as they can summon a smart assistant without the use of a phone), which ushered in devices like Apple's AirPods and Google's Pixel Buds into the fold.
Apple shipped 46.2 million smart wearables in 2018 compared to 33.1 million in 2017. Xiaomi saw a year over year growth of nearly 45% while Huawei posted an incredible 147% jump - from 4.6 million wearables shipped in 2017 to 11.3 million in 2018, managing to edge out Samsung for the fourth spot.
In total makers shipped 37 million more wearables in 2018 than they did in 2017.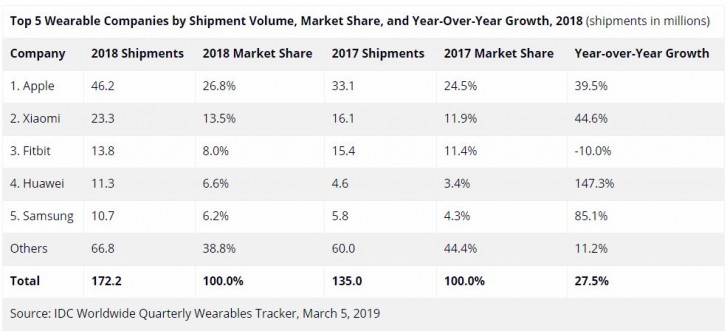 In the final quarter of 2018 Apple shipped 16.2 million devices, out of which 10.4 million were Apple Watches, leaving the rest to be AirPods or Beats headphones.
Xiaomi has retained a firm second place. Huawei's huge improvement in the wearables market was due to new products such as the Watch GT and FreeBuds 2 Pro and the fact that many Huawei and Honor smartphones were bundled with wearables.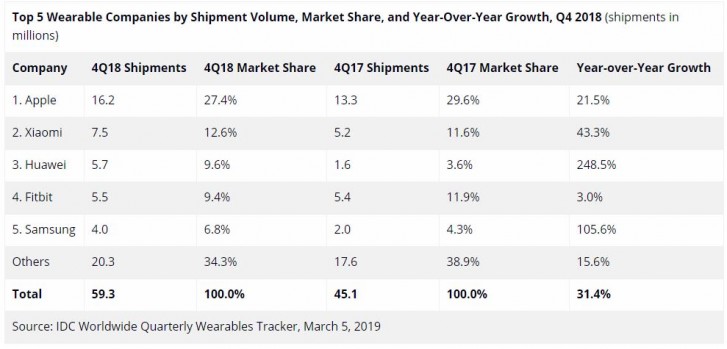 Samsung's wearable shipments also grew 105% in Q4 of 2018 but that figure translates to a jump from 2 million shipped wearables in Q4 of 2017 to 4 million in Q4 of 2018.
?
Huaweis new watch has crazy battery life Huawei is beating Samsung in every category slowly
Wrong direction of thought. It is clear that you (and most people, including myself) are biased and undervalue their own data. A simple example, your mobile number to you is just a combination of ten digits, but to the right telemarketer, your ...
Personally, I would not trust anyone with my data! Unfortunately, the times we live in, there is only so much I can protect.