Introduction
Summer's here, so letís reflect back on the wearables that 2018 has brought us so far.
As it's World Cup time, let's 'ick-off and coin yet another cliched football analogy:
Itís a game of two halves
Letís analyze the somewhat predictable first half of the year in the wearable space this week before looking forward to, in this pundits view, a more unpredictable second half next week.
The first half - exactly as expected
While the pace of change in the wearable space, partly due to economics, is much slower than that of smartphones, with step changes taking place much less frequently, the first half of the year elicited few, if any surprises.
Tag Heuer
Tag Heuer started 2018 by launching the Connected Modular 41mm, a smaller and upgraded variant of its Connected Modular 45mm smartwatch. If you're after a true luxury branded smartwatch available in a range of styles and materials, then look no further. Of course, there's no getting around that being a 'Tag' results in price points that align with the rest of their range of timepieces.
The Connected Modular range is unique in this category that it utilizes an Intel Atom processor as opposed to a Qualcomm SoC. While the Intel Atom processor is off-the-shelf, with Intel withdrawing from the wearable space, it's entirely possible Tag Heuer will adopt Qualcomm processors next time around.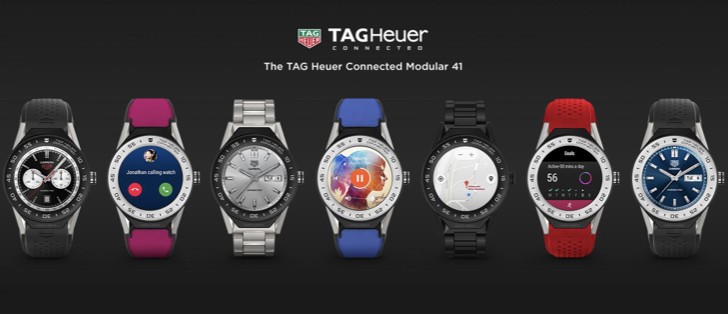 Tag Heuer Connected Modular 41 collection
Our Take
Swiss watch bearing the Swiss Made label
Increased memory to 1GB & Storage to 8GB
AMOLED screen quality, dpi & brightness (max 350 nits) improved from Connected 45 variant
Wear OS has never looked better
Be prepared to pay 'Tag' pricing
No HRM, unlikely to be used for sports but all day heart rate has value nontheless.
1 day max battery life
Garmin
Early in 2018 Garmin introduced the Forerunner 645 Music, a GPS running watch with integrated music playback and support for Garmin Pay, Garmin's contactless payment system.
Five months later, it rolled out the same capabilities to its Vivoactive and Fenix range introducing the Vivoactive 3 and Fenix 5 Plus series.
In addition to music and contactless payments, the Fenix 5 Plus series introduced mapping across the whole range - it was previously only available on the Fenix 5X. While this time around, unique to the Fenix 5X Plus is the introduction of wrist-based Pulse Ox.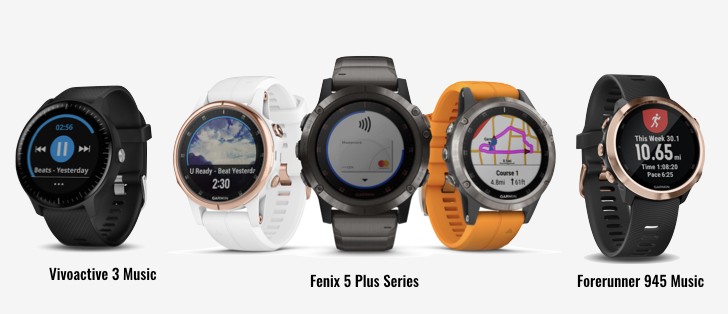 Garmin continued to roll-out music storage & playback and Garmin Pay to its range of wearables
The Fenix 5 Plus series also introduced support for Galileo, the global navigation satellite system (GNSS) that is being created by the European Union, for improved accuracy in more adverse conditions. Unexpectedly Garmin has started to enable Galileo support on some other devices in its range through firmware updates, notably the Forerunner 935 and Fenix 5 (in beta at the time of writing) series.
Our Take
With their health and fitness focus you wont be left wanting for insights
Utilizing 12 Firstbeat fitness and health features
Sunlight-legible, transflective memory-in-pixel display sips battery but can't be compared to AMOLED screen quality
GPS and music playback take their toll on battery life.
Can be integrated with a plethora of other Garmin devices from Cycling computers, bow sights, Satellite communicators, maritime sonar, boat autopilots and cycling accessories.
Spotify nowhere to be seen - yet
Limited support by banks for Garmin Pay
Extensible via apps, watch faces, data fields and widgets but smaller developer community than Apple or Google.
Xiaomi Mi Band 3
The Fitness band category, for many, is all the wearable they will ever need or their entry point as they better understand what they want from their wearable devices. Xiaomi has demonstrated again how strong this category remains by shipping 1 million of its affordable Mi Band 3's in just 17 days since its launch on May 31 this year.
It helps that today's fitness bands do more than merely counting steps. Wrist-based HRM's are becoming the norm now in this class, as is mirroring your smartphone's notifications. With the Mi Band 3 even supporting NFC for contactless payments.
Xiaomi's Mi Band 3 verifying that a strong market still exists for these fitness bands
Our Take
Can't be picky at this price point
20 day battery life
Waterproof to 5ATM
Integrates with Google Fit
Can't compare to the likes of Fitbit to data analysis
Fitbit
In 2018 Fitbit bookended the wearables category. Firstly with the introduction of the Fitbit Versa, its second smartwatch following the retro looking oft criticised Fitbit Ionic. Followed by the Fitbit Ace, a wearable-focused on our children's well-being.
Fitbit Ace
Here's some sobering facts. In October last year, the World Health Organization (WHO) published a report pertaining to the world's population in relation to obesity and weight, which it summarized as follows:
Worldwide obesity has nearly tripled since 1975
In 2016, more than 1.9 billion adults, 18 years and older, were overweight. Of these over 650 million were obese
39% of adults aged 18 years and over were overweight in 2016, and 13% were obese
Most of the world's population live in countries where overweight and obesity kills more people than underweight
41 million children under the age of 5 were overweight or obese in 2016
Over 340 million children and adolescents aged 5-19 were overweight or obese in 2016
Obesity is preventable.
Fitbit joins the ranks of Garmin with their Vivofit jr 2 and others by rebadging the Fitbit Alta at a lower price point and thus offering a fitness tracker specifically for children, addressing the problem of children's inactive lifestyles. Therefore the approach is to focus on activity and exercise as opposed to weight.
Fitbit have lowered the minimum age that you can have a Fitbit account to 8 years old and now parents can set step and activity goals while inviting their children to challenges.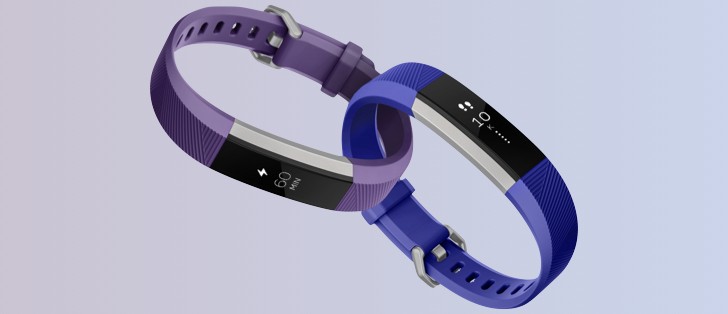 Fitbit's Ace - further expanding options to motivate kids towards a health lifestyle
Our Take
A rebadged Fitbit Alta at a lower price point
Anything to help our children is good - right!
5 day battery life
Showerproof
Fitbit App is one of the best
Tracks Steps, Distance and Active Time, plus basic Sleep
No HRM
Fitbit Versa
The Fitbit Ionic's design was derisive, and while it might look right at home on Matt Damon's wrist in The Martian, it lacked everyday appeal for many, especially the female non-astronaut audience.
The Versa brings the same fitness and smartwatch tech from the Ionic, except GPS disappointingly, packaged in a vastly improved design with more color and material options.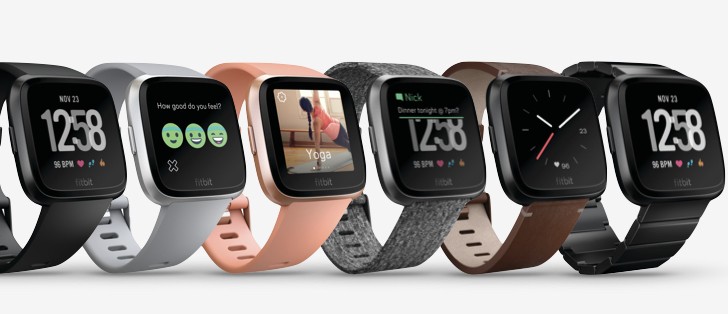 Fitbit's Versa smartwatch has a less polarizing look than its Ionic range
Our Take
Design that mimics the Apple Watch
Good range of sport activities
Bright and vibrant display
3-4 day battery life
Fitbit Pay contactless payment
Priced right
Lacks GPS
While lightweight - design a little plasticky for some
Huawei
We were surprised when Huawei announced the Watch 2 2018. The name says it all. Remarkably identical to 2017's Watch 2 the only new elements it brings to the party is eSim support enabling the sharing of the same phone number between your watch and smartphone. Additionally, Huawei packed in a couple of extra sensors, a capacitance sensor for measuring humidity and sweat along with a geomagnetic sensor to improve outdoor tracking - and that's it.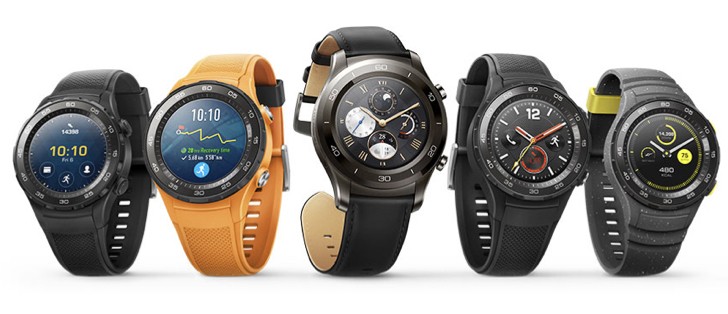 Huawei Watch 2 2018 strikingly similar to its previous Huawei Watch 2
Our Take
Includes GPS and NFC
4G model
Not the upgrade we expected
Looks not for everyone
Expectations are high for the Watch 3
AMAZFIT
Part of Huami, two of AMAZFIT's wearables became globally available this year - notably covering off different segments with a focus on offering as much bang for your buck as possible.
The AMAZFIT Bip is a well featured Apple Watch lookalike while the AMAZFIT Stratos is intended to compete with sports watches such as those provided by Garmin without the premium price tag.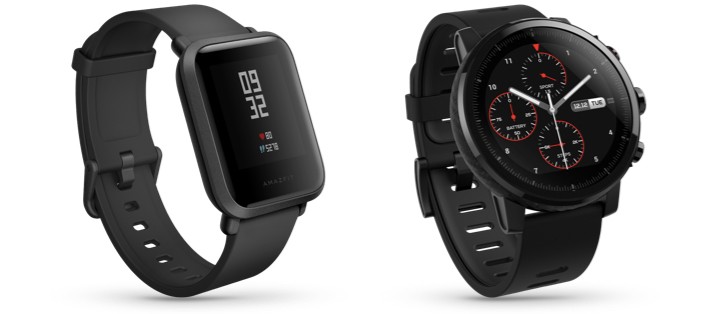 Xiaomi's Huami AMAZFIT Bip & Stratos
AMAZFIT Bip Our Take
45 day battery life!
Includes HRM and GPS
Dissapointingly GPS only used to improve distance measurements
Incredibly vibrant developer community to extend functionality
AMAZFIT Stratos Our Take
Garmin functionality at less than half the price
Utilizing 8 Firstbeat fitness and health features
Better than expected build quality
Bluetooth Music playback
Max 7 day battery life, GPS and music playback greatly reduce this
UI needs some work
Display not upto Garmin standards
Mobvoi
Google's Wear OS controls many of the smartwatches in the marketplace with the result that the market has become awash with watches packing a similar set of features. With brands differentiating themselves through either design, price or both.
It's fitting that we end with the Ticwatch S and E, as these are the polar opposites of how we started off with the Tag Heuer Connected 41mm. Unashamedly focusing on delivering the majority of features at cost-effective pricing, Mobvoi are carving out a niche all of their own.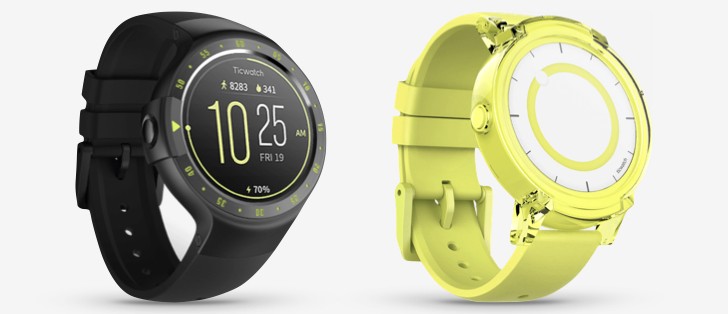 Mobvoi's Ticwatch S and Ticwatch E. Fully featured Wear OS smartwatches at a great price point
Our Take
Plastic design invokes a Swatch Vibe
Low price
Day and a half battery life
No Android Pay
Good Smartphone App
No Android Pay
Half-time - No let's take a look forward to what we'll be strapping to our wrists later this year.
We'd like your thoughts on what features and capabilities are important to you by selecting your top three from the list below:
l
Garmin whole product are super basically golf GPS is the check out the Garmin golf watch.
L
The front album art is Harvest of gold by Gossling
?
never heard of them. you saying that just because you have one?