This week saw a few major announcements and naturally drew the most attention. The clear winner was the Sony Xperia Z3+ launch, which is an incremental upgrade over last year's Z3. The hardware is mostly the same, a bit thinner (at the cost of some battery capacity), improved waterproofing removed the need for a flap over the USB port and allowed Sony to drop the charging pogo pins.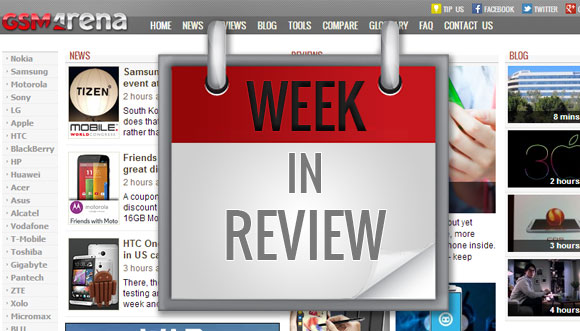 The biggest change on the Xperia Z3+ is the chipset, a Snapdragon 810 with a 64-bit octa-core processor and a beefier GPU. We're curious to see how it copes with the smaller battery.
An even smaller announcement garnered tons of attention, an Iron Man Limited Edition for the Galaxy S6 edge. It looks cool in red and yellow, but the best thing about it is the Arc reactor wireless charger.
The next major version of Android was unveiled this week, dubbed M. The biggest change is the addition of granular permissions, but there are a large number of minor improvements. USB Type C and fingerprint sensors are supported natively, Google also unveiled the latest iteration of its mobile payment system.
From then on it's pretty much all rumors. A Xiaomi Mi 5 rumor promised a 5.5" screen, probably with QHD resolution. It's expected that the company will snag the upcoming Snapdragon 820 chipset, perhaps utilizing its ultrasound fingerprint sensor.
Lumia fans are pining for a new flagship (it's been so long) and their hope is the Lumia 940. It's rumored to follow the small/big trend and launch as a 5.2" model and a 5.7" XL model. There are hints that it could use USB Type C, which can output video to a big screen, turning the phone into a desktop via Windows Continuum.
It seems that there are always rumors about the iPhone and this week was no different. It has been a very long time since the last major camera update (8MP/1080p has been used since the 4S), but the iPhone 6s may change that. So far the scuttlebutt is that it will use a 12MP camera with smaller pixels, but compensate with a RGBW sensor that will boost low-light performance.
D
Glad that S6 Iron Man Edge became a reality. Unfortunately, this ver. is very limited. But if given a chance I believe many people will try their best to buy this. IMO, Iron Man and Green Emerald are the best choices.