Xiaomi undoubtedly takes the cake this week with a pair of intriguing new devices. Both the Xiaomi Redmi 3 and the Redmi Note 3 are spectacular offers, mainly for their excellent value. With a 5" display, Snapdragon 616 SoC, 2GB of RAM and a 13MP camera among other things, the former is priced at an almost unbelievable RMB 699 (around $105 at current exchange rates).
The Redmi Note 3 ups the game quite a bit, providing a 5.5-inch FullHD display, up to 3GB of RAM and a Snapdragon 650 (former 618) chip. The device is not entirely new, but it does come with a more powerful SoC, integrated X8 LTE with Cat 7 speeds and support for VoLTE and also sells for the spectacularly affordable $151 for the base model.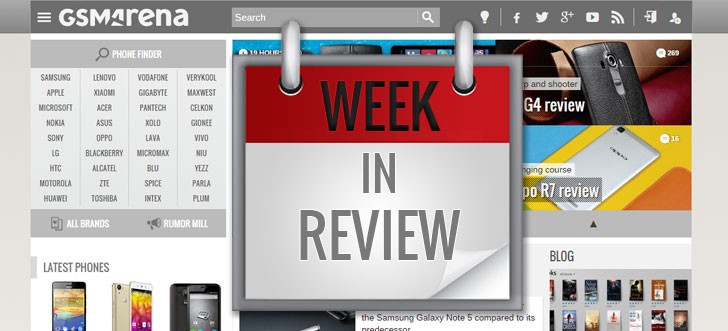 To finish off Xiaomi's presence in the news this week, there are a number of new rumors, including images and a full set of specs now available for the company's upcoming flagship – the Xiaomi Mi 5. It is shaping up to be a true high-end offer with a 5.2-inch QHD display, 4GB of RAM and running on Qualcomm's latest beastly chip – the Snapdragon 820. Speaking of major device rumors, the Samsung Galaxy S7 is getting ever closer to a release and people are still busy figuring out all of the versions it will come in and their respective release dates. Last we heard, it's a fifty, fifty affair between having a total of three or four versions.
Lenovo also had a strong week in the mobile realm. It announced the Lemon 3 – an interesting mid-ranger with a 5.0-inch FullHD display, Snapdragon 616 SoC, 2GB of RAM and a 13MP main camera, which looks to be directly aimed at the Xiaomi Redmi 3 and even bears the same price tag of RMB 699 (around $105) in China. Then there is the Lenovo A7000, which was launched in India with high hopes to build on the whopping success of its predecessor and the K4 Note, which was spotted at retailers in Saudi Arabia. Speaking of which, new rumors suggest that a K5 Note is already on the way.
In other news, thy mystery around the alleged resurrection of a 4" iPhone is slowly unraveling. And the Nokia brand is getting more frequent mentions in the news section as well, this time with a new leak that hints at a flying return to the smartphone realm for the company in 2016.
?
I think most specs are already leaked. Various manufacturers have cases for the Samsung on pre-order. I found a complete collection Galaxy S7 cases at a Dutch online store... Some on stock... https://www.gsmpunt.nl/accessoires/samsung/galax­y-s7/ho...
J
High-end vs low-end smartphone.
n
The winner true in week 2, is Huawei Mate 8, Company Huawei he knew how to they promote phone. Near was and company Xiaomi by phone X5 (next Xiaomi 6) Company Samsung was poor at this chapter.