With Apple's major announcement event and IFA now well behind us, things are starting to tone down a little. Initial euphoria about the iPhone 6s and the Xperia Z5 line seems to be dying out and people are once again looking forward to the next big announcement in the mobile realm.
And the thing you were most excited about this past week is definitely the upcoming Nexus duo. The LG and Huawei units have been popping up in various rumors online – more notably, a few more specs details for the Huawei one which will apparently boast a 5.7-inch QHD display, 12MP camera, Snapdragon 810 SoC and 3GB of RAM. The LG Nexus 5 got its fair share of the spotlight as well with a few new leaked shots in a fresh mint color.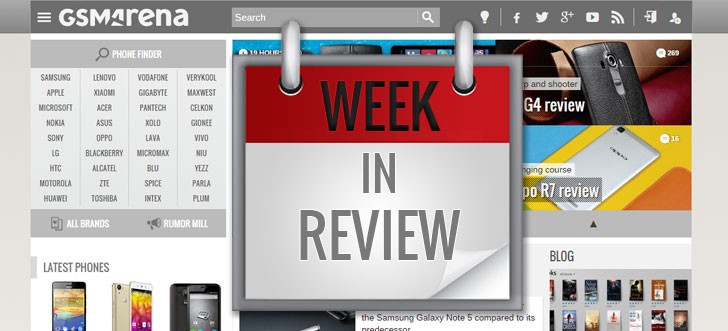 Samsung also made some headlines. In today's fast-paced mobile world it is never too early to discuss the next big thing and we have no doubt that the Korean giant is already hard at work on the Galaxy S7. A new leaked benchmark suggests that the handset, dubbed "Project Lucky" will have 3GB of RAM. Another Samsung project might bring about a veritable revolution at the beginning of next year. Project Valley promises to be the first foldable phone to hit the market and the concept definitely looks interesting and very promising.
And as long as we are on the subject of interesting projects, the new Elephone "Vowney" is one that deserves some attention if you are a Windows fan. The device, which is already up for preorder comes with the promise that it can potentially run Windows 10 as well as Android on one of its two modifications and with quite a powerful hardware platform, featuring a QHD screen, quad-core Intel SoC and 3GB of RAM.
In other news, Microsoft has been keeping busy. The Lumia 950, 950 XL and Surface Pro 4 are set to debut on October 6 and the US giant also has other things in the works, like the Lumia 550 – a budget-friendly LTE phone. HTC also has a few things in the oven, like the eagerly-anticipated One A9 (Aero), which promises a thin metal body with the new Snapdragon 617 SoC and Android 6.0 out-of-the-box and sadly a quite steep alleged price tag of €700.
Other upcoming devices that made an appearance this week and are definitely worth checking out are the dual screen LG V10 and the LG Class metal-clad phablet, which should be unveiled on October 1 and September 21, respectively. And a day later, on September 22, Xiaomi will be unveiling its upgraded Mi 4c model. Also, the Meizu PRO 5 is shaping up like an interesting premium offering that might be the start of a new sub-brand for the OEM.
For this and more, check out this quick run-down of our most popular articles below.
D
Nexus announcement is the biggest one...i m waiting for that