The end of the year is drawing closer and the holiday season is almost upon us. These last few weeks are traditionally busy and in the mobile realm most seem to be rushing in preparation for 2016 and all the exciting new releases and announcements it holds. Naturally, this means an influx of rumors and leaks, which is what dominated the news section this week.
Samsung was in the spotlight as everybody is eagerly awaiting the release of the Galaxy S7 flagship early next year. We managed to get our hands on an early render of the upcoming flagship duo and, by all accounts, the OEM looks to be planning a beefy 6.0-inch version of the phone to complement the standard 5.1-inch one.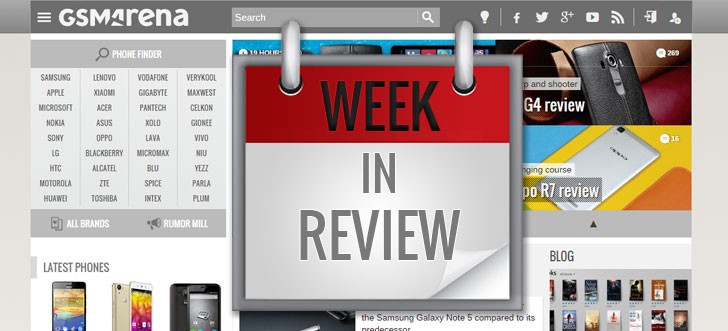 And while we are on the topic of Samsung, the Korean giant got everybody excited a few days ago, with news of a new Galaxy A8 handset. Turns out, however, that it is not the eagerly-anticipated upgraded model, refreshed for 2016, but rather a Japanese version of the existing one with an Exynos 5333 SoC. Also, interestingly enough, some Galaxy Note 4 users have been getting an early Android 6.0 Marshmallow update, while the OEM's latest generation of devices is oddly left out.
Another upcoming device also made headlines. It is Xiaomi's new flagship, the Mi 5 and needless to say, expectations for the handset are pretty high. The Chinese OEM now has a solid reputation for delivering quality devices at a very competitive price point and the Mi 5 will likely make no exception. However, the device is still shrouded in a lot of mystery, with conflicting renders and specs sheets constantly flying in, so, the full picture might actually remain unclear up until the very launch.
In other news, Apple unveiled a rather controversial Smart Battery Case for the iPhone 6s duo, which has been met with a lot of criticism. It does feature a few questionable design decisions and has sparked a veritable flame war with third-party accessory vendors also fanning the flames, but we will let you decide on its merits for yourself. Cupertino might actually be focusing its designing efforts on other things, like a new Apple Watch and 4.0-inch iPhone, which will allegedly come out next April.
Also, we can probably expect a new metal LG G5 flagship in February, a OnePlus 2 and a new high-end offer by HTC, allegedly called Perfume. Overall, 2016 is starting to look quite promising from the very start.
p
too much talk with not actions
D
Xiaomi mi 5 has been rumoured for so long, it was even leaked with benchmarks in January before. Most expected device of Xiaomi so it will be interesting how it turns out. Probably intended to be used as their foothold into the west, can't think of a...