If mobile business was a sport, then Team BlackBerry threw the Hail Mary pass that fans dream about. The BlackBerry Priv is unique in more ways than one, unexpected in a way but also inevitable.
The company's own oft-delayed BlackBerry 10 OS leaned on Android apps to bootstrap its ecosystem, but it never quite worked right – it ran an old version of the Android VM, there were bugs and even when everything ran smoothly, the made-for-Android UI of the apps didn't fit the aesthetic of BB 10 OS.
The native platform is in freefall (some analysts have calculated Tizen has more market share), so BlackBerry had no choice but to go full-blown Android instead of just emulation. Some doubted it would ever happen but here we are.
It did bring its government-grade security features. Sure, Samsung KNOX got some certifications, but you don't see President Obama or Chancellor Merkel pocketing a Galaxy. On the downside the first release of the software has some issues to hammer out – not unexpected, but not great for a company that needs everything to go just right.
BlackBerry is known for two things – security and keyboard. Sure enough, the BlackBerry Priv has a classic BB keyboard, hidden behind the wonderful 5.4" QHD AMOLED display with a sliding mechanism. Hardware QWERTY and a slider, our nostalgia is welling up!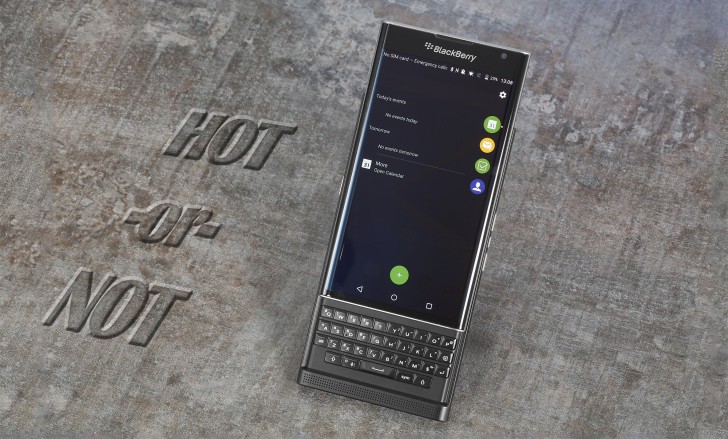 Unfortunately, the execution on the keyboard isn't perfect – maybe because it's cramped under the screen, maybe because the key travel is pretty shallow, the BlackBerry keyboard is not as great as we remember. And this is not something that can be fixed with a software update.
To be fair to the Canadians, they got a lot of things right – the screen, the camera especially, the top grade connectivity. There are some issues with those things, but the thing that will turn most people away is the price.
Even if the BlackBerry Priv was perfectly executed (and it's not), few people can justify $900/€780 for it. Sales to individual consumers will probably be insignificant, so it's really down to businesses to buy Privs in droves.
Would you use a Priv? If you could afford it or if your company got you one as a company phone that is. If you need help making up your mind, our review is a good place to start.
?
show me another phone that is the same as the Priv
D
To repeat. Market share is non-existant (you said let the market decide), company has no intention to make anymore for BBOS, they have put their last eggs in the android basket. Showing me their stock prices as a response to their market share d...
R
Do you have current information?? No. Here's is current stock status http://money.cnn.com/quote/quote.html?symb=BBRY I know u r just like other Blackberry haters. Haters hate We don't care. BlackBerry not for every one. Productive device for prod...