Weekly poll: Huawei Mate 30 and Mate 30 Pro have great cameras, a great problem too
During Thursday's event Huawei took over an hour before addressing the elephant in the room – how can it sell the new Mate 30 phones in the West without Google Play Services. To its credit, the company made it clear that it will roll out support for those as soon as it is allowed with an overnight update.
For now, however, we're looking at the Huawei Media Services and the AppGallery taking over. It remains to be seen if consumers will accept the downgrade in app selection – some might expect a large discount first.
It's a shame that the new flagships are artificially limited as they bring the most impressive camera hardware yet. And Huawei has a good track record in making the best out of good camera hardware.

The Huawei Mate 30 Pro has two 40MP sensors. The 40MP SuperSensing camera combines the highly capable RYYB sensor with a bright f/1.6 aperture and OIS. However, it's the other 40MP camera that's more interesting.
The Cine camera has an ultra wide-angle lens and is without competition. The huge 1/1.54" type sensor dwarfs anything else in the mobile space and the 3:2 aspect ratio makes it better suited for videos and landscape photography.
The f/1.8 aperture is also very impressive for an ultra wide lens – for comparison, P30 Pro's ultra wide camera has an f/2.2 aperture, the iPhone 11 Pro Max f/2.4. And that's not even the whole story - since F-ratings are relative to sensor size the actual difference in light-gathering ability is much larger than the numbers suggest.
Huawei dialed back the telephoto focal length to 80mm – that's 3x optical zoom over the main camera, 5x hybrid. Which is fine for those who found 5x optical to be too long (in-between values are interpolated, so the P30 Pro isn't great at medium distance).
Moving on to the screen, the Horizon Display curves at an impressive 88° (there's a palm rejection system in place, don't worry). The side bezels are effectively non-existent and the curve enables virtual buttons – a shutter key for the camera, shoulder buttons for games and so on.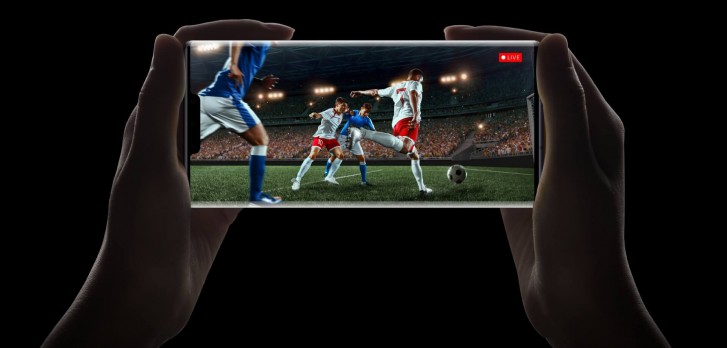 Huawei made a big deal about how thin the screen's top bezels are, but the size of that notch still makes it hard to swallow. That notch does include dedicated hardware to recognize hand gestures, though, ahead of Google's unveiling of the Pixel 4 phones.

The Kirin 990 is looking strong and the battery charging tech is supper impressive – 27W wireless charging is faster than many wired chargers. And if you do plug in a cable, you get 40W.
Time to vote: how do you feel about the Huawei Mate 30 Pro?
For the first time, we don't feel like Huawei short-changed the non-Pro model. The Huawei Mate 30 gets the 40MP main and 3x telephoto cameras, a stark difference from the Mate 20 vs. Mate 20 Pro situation. The Cine Camera is gone, however, replaced by a more conventional 16MP ultrawide module.
Also, the screen is an OLED with similar sharpness, plus it's flat, which some will see as an advantage (smaller notch to boot).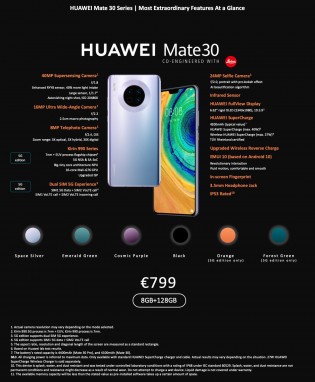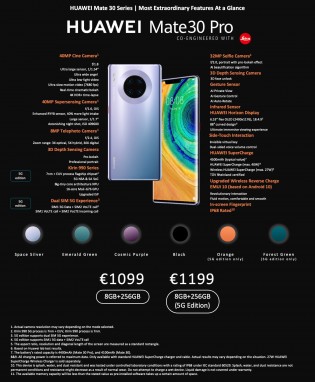 Infographics: Huawei Mate 30 • Huawei Mate 30 Pro
It gets better. The Mate 30 gets the same wired and wireless charging capabilities as the Pro – the P30 and Mate 20 don't even have wireless charging and their wired charging is slower than on their Pro counterparts. One thing we might criticize is water resistance, which is IP53 (instead of IP68 like on the Pro).
Finally, both Mate 30 and Mate 30 Pro have 5G options, which promise future-proof connectivity with many 5G bands supported, as well as both SA and NSA modes. What's not to love? Other than the software situation, we mean.
C
You can put any app you want but they're not working correctly even when you side load google play. Snap chat for instance will ban you during every wave if you make it that far. Using the Huawei store combo apps for social media gives you a little l...
?
Check again...google bought it, didn't develop it. But maybe I overestimate the meaning of "open source"...the way I understand it Huawei can replace or delete whatever google put in there (hence why it's called emui based on android?)
?
So they got wrong info. You dont have to be such an immature arrse to tell them that.