Carriers are busy launching the first 5G networks and with not a minute to spare – last week's poll shows that people are excited about the possibilities of next generation mobile data. That's the option picked by close to a third of all voters.
5G promises higher bandwidth, lower latency, improved power usage and support for many, many more users, all browsing the web and interacting with smart services of the future. Beware, though, this excitement will be exploited with some deceptive marketing.
Foldable phones are a distant second with 16% of the vote. We fear those will be showroom pieces in 2019 as prohibitively high pricing will keep them out of the hands of many. 2-3 years from now, however, we may all be carrying 10" screens folded up neatly in our pockets.
Then tied for third place with 15% are Computational photography and Punch hole cameras. The latter we get, people seriously do not like notches and the hole design offers an attractive alternative.
However, we were surprised to see computational photography this low on the list, especially since people aren't too excited about the current direction of camera hardware – adding more and more modules (that option got 10%).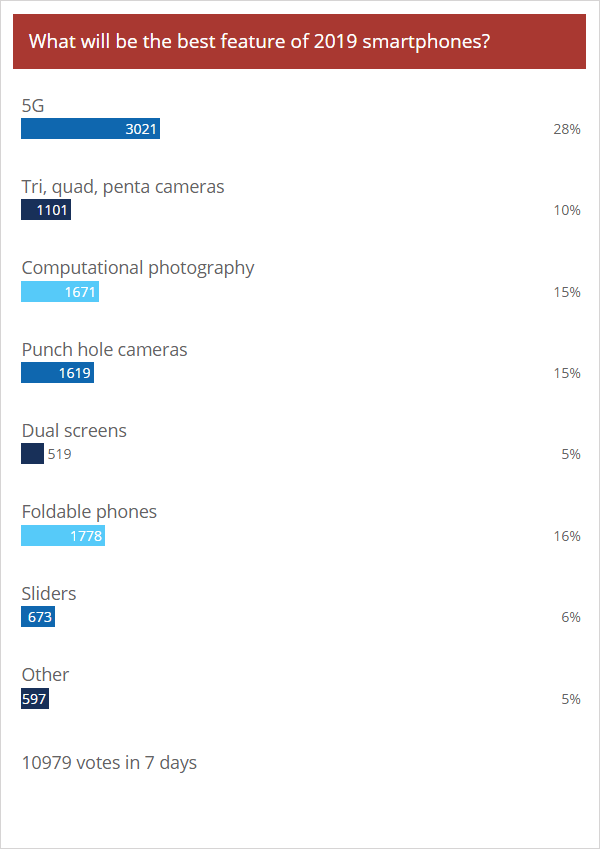 Do you know how much to setup a 5G antenna if it need more antenna than 4G. If 5G is great it should use less antenna but have the 5G speeds.
p
That's why I stayed with my normal S7, I don't like edge displays, rounded corners, weird notches or weird aspect ratios! Also I like the phone to have bezels, but not too much! What I want is a 5.0-5.3(16:9 1440P or 4K flat amoled screen with no...
?
5G yes it is the way forward and cannot wait. After saying that i hope that new phones dont carry on the trend of getting bigger and heavier as i really do think we have reached the limit. i wish they would stop making flagship phones bigger just to ...