Business seems to be going well for BlackBerry over the last quarter (well, by the company's recent standards) and it's in no small part thanks to the Priv. A smartphone with its share of flaws as we established while doing our in-depth review, the BlackBerry Priv nonetheless manages to entice users, and our weekly poll results are in to attest that.
At 77% in favor, the general public opinion is pretty clear - the Priv has a lot to offer to offset whatever disadvantages it may have. Or at least a little something for anyone, be it the hardware keyboard, the BlackBerry-enhanced Android build, or the nifty sliding mechanism, which is a breath of fresh air in today's realm of plain tile-like touchscreen phones.
But the non-believers were likely put off by the price tag, which is high, even as flagships go. Not strictly befitting a top-tier device, the BlackBerry Priv's build is another area, where haters (or simply objective observers) can find grounds for complaint.
We can ponder all we want, but numbers are numbers, and 3 out of 4 people gave the BlackBerry Priv the thumbs-up. And even if our poll results don't necessarily translate into unit sales, there may very well be a future to BlackBerry's hardware division after all.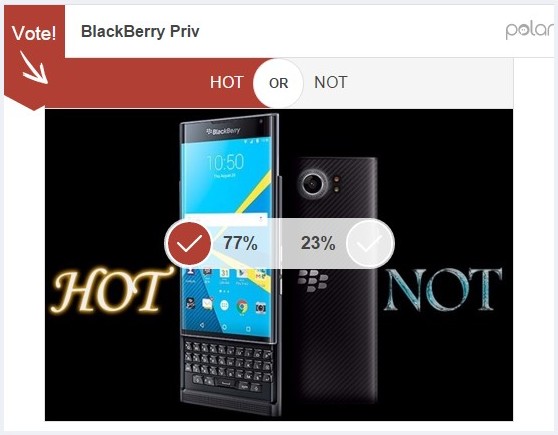 S
I'm surprised it got so high % of No's since this poll was rigged on EVERY Blackberry fanpage on the internet.
D
It to expensive for type of offering as smartphone android.
J
Problem is, you can't make it any smaller without making it fatter. Look at Sony's Compacts, to keep the same hardware you have to bulk out, and these days the larger screen which simultaneously allows increasingly svelte waistlines seems a no-braine...