Weekly poll results: the iPhone X is the only one worthy of fan love
If you're going to have an iPhone – and our poll shows that maybe you don't – get the iPhone X. The iPhone 8 and 8 Plus barely registered on the charts – they didn't improve enough, making them boring (not a great thing for an expensive phone).
The voters liked the iPhone X, it's a massive departure from the traditional iPhone design that has gotten quite stale. The upgrade to AMOLED was a welcome one and the TrueDepth camera/animoji seem fun.
It's damn expensive though. Not that Apple's phones were ever cheap, but the X is a hard hit to the wallet – especially if you're paying in euros rather than dollars.
Anyway, we think that Apple has nothing to worry about when it comes to iPhone X sales – those will sell out as fast as Apple can make them. Things are looking good for the iPhone 8 and 8 Plus sales too, but it remains to be seen if they will be better or worse than iPhone 7 sales.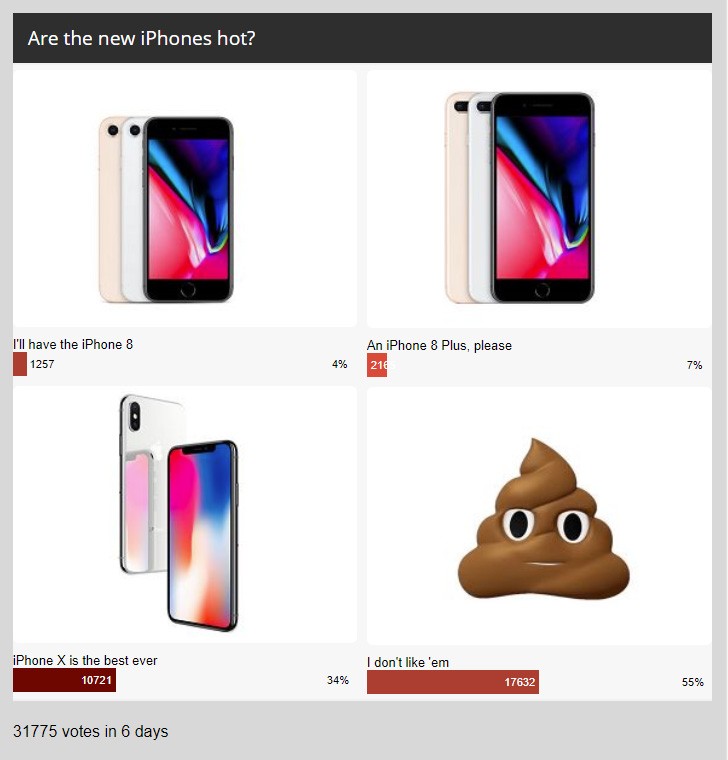 F
"Warranty doesn't work for 2 years when next update messes up the phone". Did you know that after 2 years. You can unlock your phone for free? And afterwards, you can get all those updates that carrier doesn't do? I have an iphone 5s. That has been l...
?
Dont waste your time, the reality is irrelevant to those android lovers.
?
I remember the 6 and 6 plus issues. But on the latter? Where is your sufficient evidence that the $1,000 iphone brand be unstable? And did you know the word "Under Warranty" Warranty doesn't work for 2 years when next update messes up the phone. I ...