Weekly poll results: a Nokia flagship is hotly anticipated, low-enders get the cold shoulder
The fans are hungry for a new Nokia flagship, with 44% of the vote that is quite clear. However, HMD's entry-level offerings failed to spur up such excitement – the 5 and the 3 got a few measly percentage points. Even the Nokia 3310 ranked higher, we guess the nostalgia factor is strong.
Even the Nokia 6 barely beat out the "Nokias belong in the past" option with 18% and 17% respectively. It's more of a workhorse phone rather than a dreamy flagship (the same can be said of the 3310), so practical-minded people would be quite happy with it.
The Nokia 5 had to fight an onslaught of comments about the Sony Xperia XA1, a similarly priced competitor. The pricier Samsung Galaxy A5 also came up.
As for the Nokia 3, there were a few commenters that are happy with it, but most find that the "bang for the buck" ratio is skewed more towards "buck".
Now it's down to the upcoming high-end Nokia models to rebuild the reputation of the brand that fizzled out during the Windows years.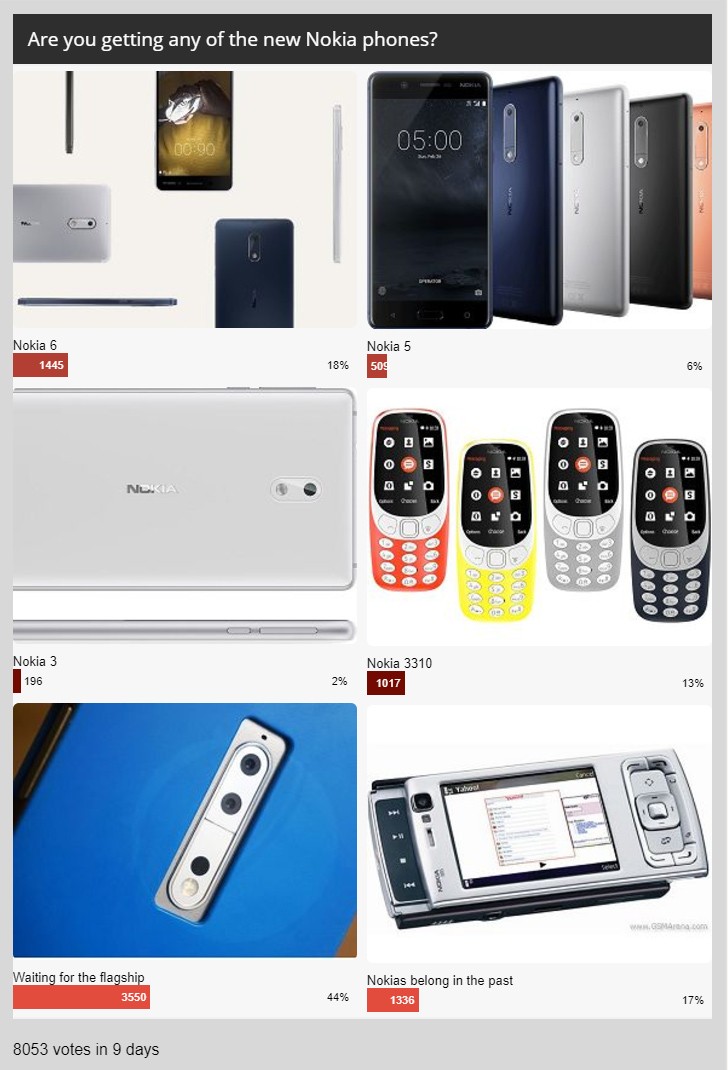 D
will only buy Nokia if they use their own OS i.e Symbian,Maemo or even MeeGo,that's all just not fully trust Android OS.
?
Nokia should bring back the past with a vengance. Everyone knows the quality that had the nokia stamp. If they can make a device like that then they have no problem is becoming a contender to fear.....