Weekly poll results: advanced on-screen buttons on bezel-less phones are the future
Our readers want to live cutting edge in tech - one in three voted in favor of advanced touchscreens that are pressure sensitive and hide fingerprint readers beneath them. Basically, the final evolution of the capacitive key.
Hardware keys still have their fans, one in four voters. Looking through the comments, we find that many of you love Sony's solution of combining the fingerprint reader with the Power key and mounting the combo on the side.
However, a slightly more popular option proved to be wider than 16:9 screens, which leave room for on-screen keys while still leaving plenty of room for apps and multimedia. This is the way the wind is blowing, at least for flagship devices - come next year, we think most manufacturers will have jumped on the "extra wide" screen train.
Surprisingly, there was a significant percentage of "I don't care" votes, 13%. We put a picture of the BlackBerry KEYOne for this option - a bit cheeky, but also as a nod to those who want more than just three hardware buttons. KEYOne's success hinges on people still wanting proper tactile feedback.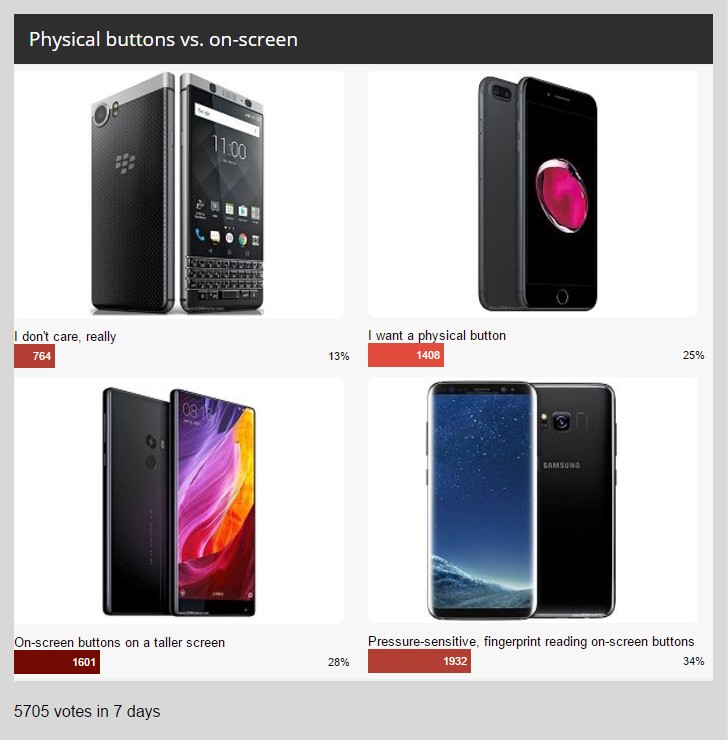 ?
Bezel-less phones are crap. It is a crap and useless design. Bezels are useful because they protect the screen at drops/impacts and protect the screen from accident touch at the edge from your hand/palm.
?
What people say they want, and what they are prepared to pay for, a two completely different things.