IFA is fast approaching (starts next week!) and we asked you which devices are you most excited about. The vote is pretty split, but then there are a lot of options.
The clear winner is the Sony Xperia XR - a proper 2016 flagship from Sony to replace the Z5. It got double the votes of the next closest competitor - so the demand is there, Sony better be on the ball (recently we found out there's an Xperia X Compact and an Xperia XZ in the works too).
Next, we have a tie - the Motorola matched with the LG G Flex 3. We've seen very few rumors about the G Flex 3 and LG is prepping to unveil the LG V20 outside of IFA - the first phone to launch with Android 7.0 Nougat. So, there's a good chance the G Flex 3 will stay a rumor.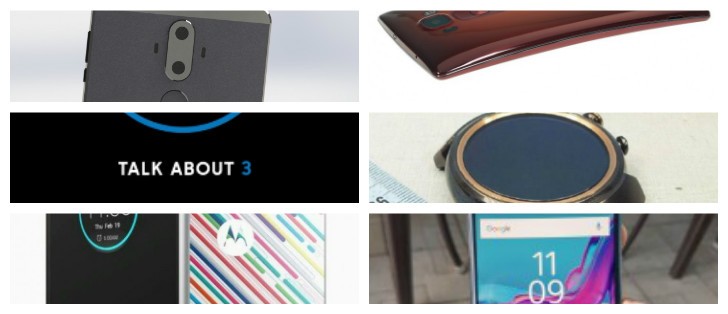 There are more Moto leaks - some about a small Moto X (2016) and some about a cheaper Moto Z Play. Previous polls showed fans loved the Moto Z series, but with a lower price tag and same modular design, we can see why people are interested in the Z Play. Meanwhile, fans of small phones swear the original Moto X was the best phone ever.
There's a good chance Huawei will unveil either the Mate S2 or Mate 9, the latter being more likely. The rumors paint the Mate 9 as a large phone (5.9") that boosts P9's dual-camera setup to 20MP resolution.
We also had a couple of smartwatches, the Samsung Gear S3 dominating 4 to 1. The new Tizen-powered watch is a follow-up to last year's S2, which brought the clever rotating bezel design. The Asus Zenwatch 3, meanwhile, feels a little underappreciated - the Zenwatch 2 lacked a round option, but it was a good quality Android Wear watch on a budget.
Poll votes
Higher is better
Sony Xperia XR
36%
Moto Z Play/Moto X (2016)
18%
LG G Flex 3
18%
Huawei Mate S2/Mate 9
13%
Samsung Gear S3
12%
Asus Zenwatch 3
3%
Of course, there were dissidents in the comments, clamoring for an Android-powered Nokia to show up or for the mythical Microsoft Surface phone.
D
Dude let it go. No point in arguing with them. Not everyone can appreciate the Xperias.
D
Try to show them p9, as I already said it's compact and beautiful. Yes more refinrd than mate 8. If 3 of them are favouring mate 8, I m sure 6-10 of them will favour p9.
D
Gsmarena.com is not biased... I trust them. But when u saw xperia is losing you start blaming gsmarena.com. if they said somewhat otherwise you would have trust them... things shouldn't work like that way