Weekly poll results: people are warming up to Android One, Nexus line still missed
With Android One phones picking up speed, we asked you if you thought that this line of Google-backed smartphones could take the place of the discontinued Nexus line.
The likes of Xiaomi Mi A1 and Motorola Moto X4 won the vote, though barely. A major concern was that these two are still running Nougat while the Pixels and supported Nexus phones are already on Oreo.
People also wished for some higher-end specs – the Nexus were flagship phones, after all. We're not sure if we'll see that, instead phones like the new Nokias and OnePlus will be delivering pure Android and premium spec.
There's an argument to be made for keeping Android One true to its original purpose – affordable Android phones with reliable software. Like the recent KRACK vulnerability in Wi-Fi's WPA2 showed, timely security updates are vital and customized Androids rarely get them quickly.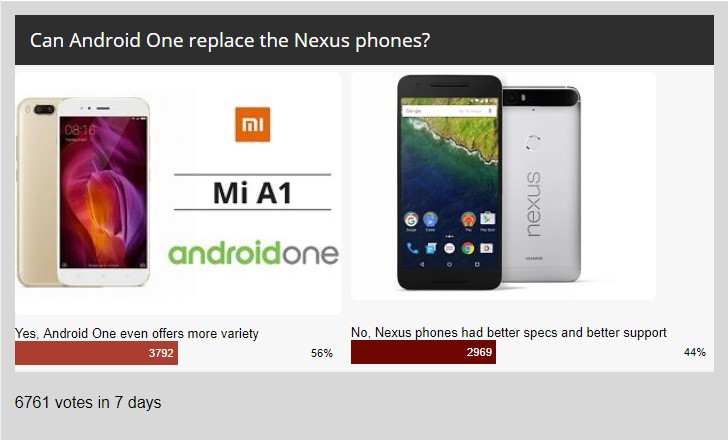 m
Wow! Thank you so much! Your post answers exactly what I needed to know and more. I'm truly amazed. Again, thank you.
K
Pure Android - Nexus, fastest updates, 2 years support, biggest community support Google Android - Pixel devices only (No more Project Silver/Play Edition Device). Very Fast updates, 3 year commitment, still slower than Nexus, big community supp...
m
What's the difference between stock Android (Pixel, Nexus, Moto, etc.) and Android One?