BlackBerry took a while to find its footing after touchscreen competition displaced its keyboard-based phones, but if our poll is any indication, the KEYOne is a return to form - both hardware keyboard and to a desirable status. Just over half of voters (53%) expressed interest in buying one!
Meanwhile, very few (9%) claim that the Priv is better. Sure, it's a higher-end device, but something about it didn't click with consumers. Not so with the KEYOne, most commenters had a positive attitude towards BlackBerry's new phone (even despite its relatively high price).
Just over a third of voters are fine with an on-screen keyboard (though BB fans urge them to at least try a hardware one with a promise of higher speed and accuracy). Basically no-one uses a Bluetooth keyboard, so that's not an option.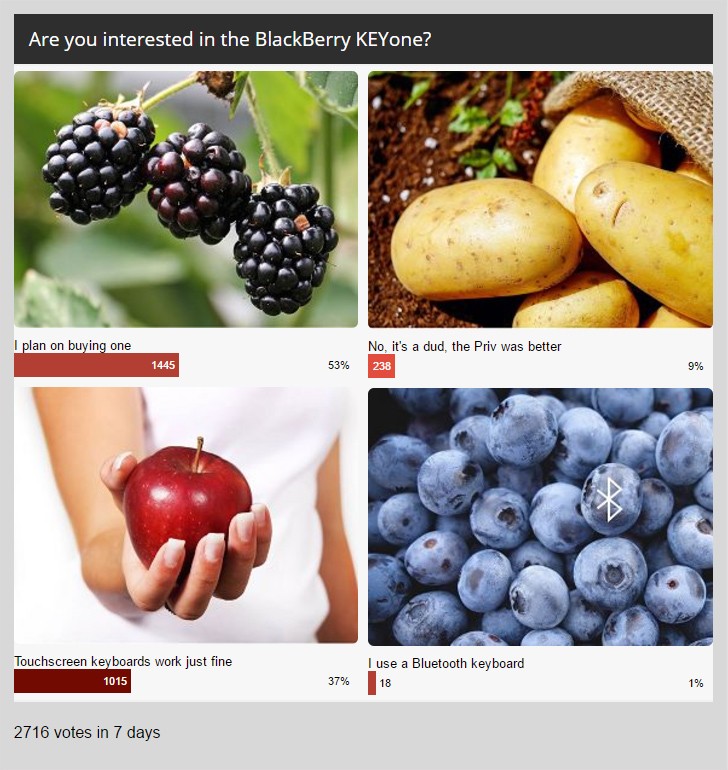 D
Can blackberry make the keyboard design and dual sim connectivity its niche, it will sell more than anyone else ...... especially with its data security in place. people are tired of carrying multiple devices, samsung had got this right and you need ...
D
I like physical keyboard. But, the features which I need are not there in KeyOne. For example, it doesn't have dual sim connectivity and RAM is a mediocre 3GB.
H
BB pricing structure has never been right, this will see a huge price cut very soon.