Weekly poll results: brand loyalty is important, but it's not everything
One in three voters in last week's poll have a favorite brand and put their trust in it when buying a new phone. However, two in three people are not as attached and prioritize the quality of the product over loyalty to the brand.
Among them, most prefer to do their research for each upgrade. The rest look at the offerings of their favorite brand first, but aren't afraid to switch to a new vendor if something better comes along.
Okay, those are the numbers rounded up – there's actually a small group of people (8%) that love trying new things and jump between brands in the name of experimentation.
Reading through the comments, we found many stories of why people switched brands. Some brands declined after getting acquired, others dropped the quality of their products all by themselves, some raised the prices too high.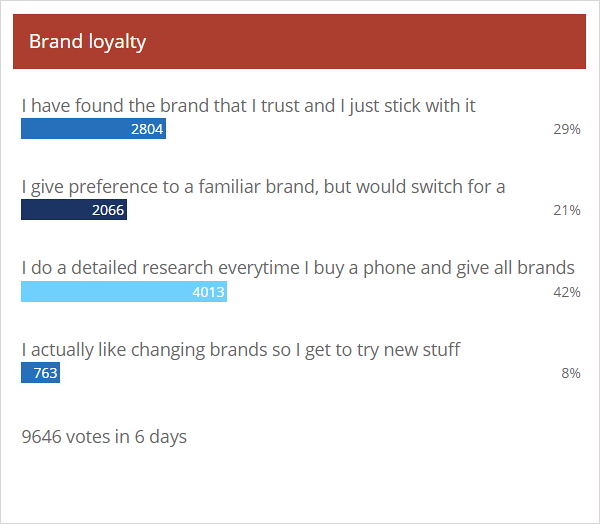 Some brought up an interesting point about the study quoted in the post – that a large chunk of iPhone owners stick with Apple because of iOS. Do you think that's because of iOS as a whole or just certain features (e.g. iMessage, back-ups to iCloud, etc.)? Well, that's probably a topic for a future poll.
Man to be honest rather xiaomi adds andMUI which looks a bit like IOS than a Samsung One UI with tons of bloatware but no adds on beggining.
r
well my issue is not whether or not their ads can be disabled or not, it is what he said "less ads". that made me laughed. besides why do the efforts of doin those, when other other phones dont have ads. thats why, never again i will try a xiaomi. ...