Weekly poll results: camera phones get a pass on humps, everything else better be flat
Most people don't care for humpback phones... unless they are camera phones. Last week's poll on the matter revealed a 2:1 preference for flat phones, but the simple yes or no vote doesn't tell the whole story.
Looking through the comments reveals a fairly common sentiment - "I don't mind a hump, if it's for a great camera". Unfortunately, extra-large camera sensors are not the reason behind modern humps, instead they are caused by extra-thin phones.
Even those that are okay with the camera want it to flow into the design. Everyone has their favorites, but plenty of examples were given for both ugly and well-executed humps.
There's no bullet-proof recipe for success, but a central hump with sapphire glass is a good start – it keeps the phone balanced and is more resistant to scratches (an issue when humps are involved).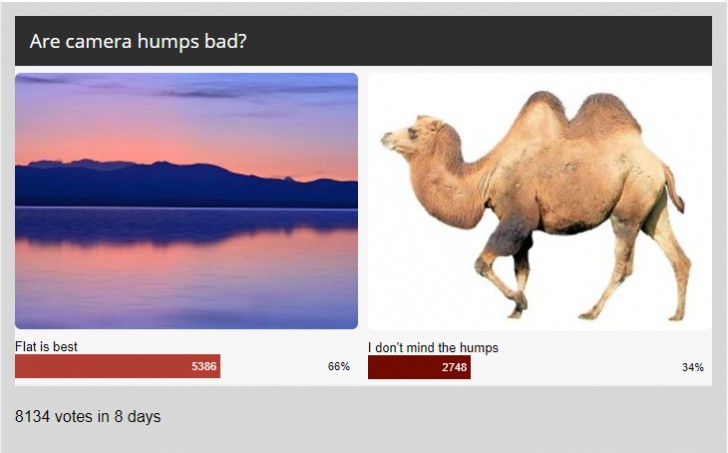 ?
You must not have seen even a phone with bezels face the consequences of reality.
?
I still have wash my Xperia Z2 with mildly soup bar and tab water even it had suffer more than 10 times of drop, more than 3 times for deep impact and 1 times crash by the car doors. I 180% trust Sony quality! And I am back for looking forward to Son...
?
Does the screen broken? or get some spiderweb? The bezels must help to save the screen from get some spiderweb do you agree?