Our weekly poll stretched for a fortnight this time, but it was only for the better. It gave you the opportunity to gain a better perspective on the Samsung Galaxy Note5 and S6 edge+ and cast a more informed vote on the matter of their hotness.
Far from a raving reception the two have gotten, but the response is positive overall. The first glance at the results may evoke a bewildered look on your face - the Note5 getting more upvotes than the S6 edge+ in a mostly superficial poll, where design would seem to matter more?
That proved not to be the case and productivity won over looks, with the S Pen tipping the scales in the Note's direction, flawed design or not. That's not say that the Galaxy S6 edge+ doesn't have its fans, it gets a similar 3 out of 5 positive votes.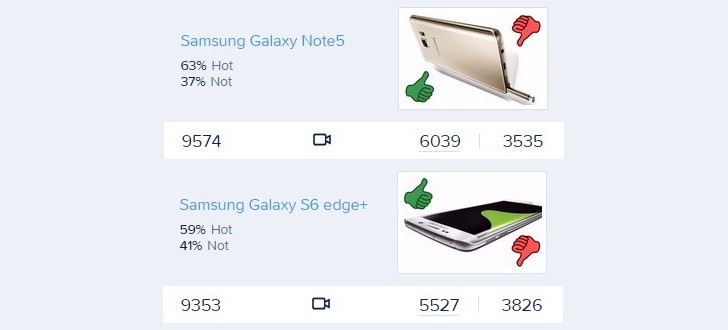 The approval rates, however, are among the lowest of late - the Sony Xperia M5 and C5 Ultra gathered upwards of 80% two weeks ago, and so did the Moto X Style a while earlier. It's perhaps a bit too early, though, for these numbers to be considered a cause for concern for Samsung.
A
oops! have missed this poll. would have voted NOT.
S
If you are comparing i Phone to Ferrari in this analogy then you are suggesting the iPhone is expensive, fast and powerful. Two of those things only apply when you compare it to.. other iPhones. I do lime the iPhone 6 and 6plus though, so it might b...
?
Realistically, people would go for device that offers freedom. Safety or not, that is what living all about. You've got to take the risk. Life is more fun that way. Iphone is not true living, that is just not dying.