Weekly poll results: Galaxy S8 a bit pricey, voters want value for money
When we asked if the Galaxy S8 price was fair, the number was still just a rumor. The actual number proved lower - $720/€800 for the S8 and $840/€900 for the Galaxy S8+. Still, most votes fell in two categories.
The first (a minority) thinks that even €900+ is fair for the best phone on the market, especially since Apple and Google's top dogs already cost as much. Very few people (6%) were bothered by the lack of a dual camera.
However, the overwhelming majority - 72% - is focused on value for money and there's similar value to be had for less money elsewhere. Will they be swayed by the actual price, which proved to be quite competitive with early 2017 flagships.
We have a feeling those voters will wait a few months to see what OnePlus, Xiaomi and others have in store - they are not shy about bringing the best Snapdragon chipset at a $300-$400 price point (though sometimes you need to import the phone, so it isn't as cheap as it appears).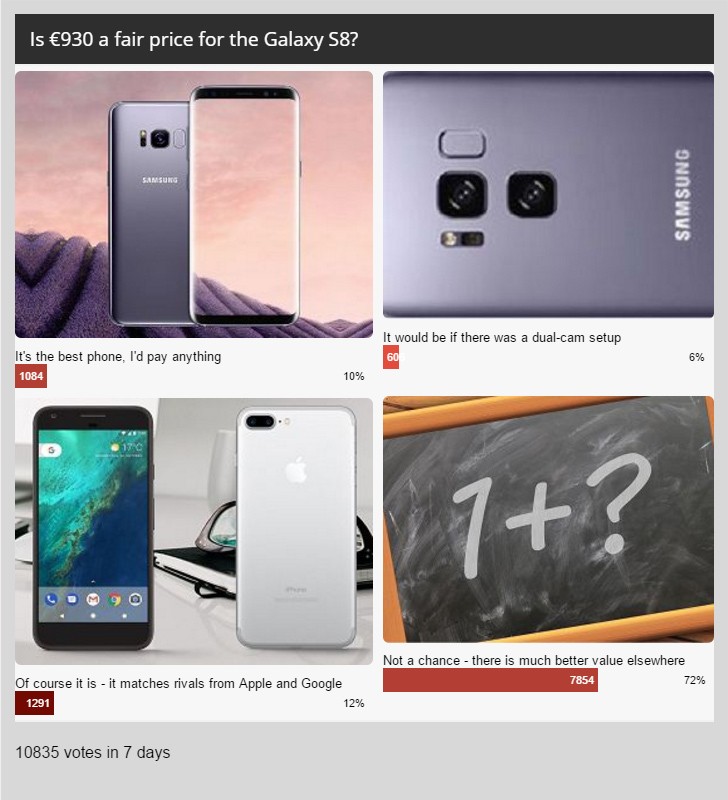 ?
it's funny, because all the hype we've heard so far about S8, was basically from Samsung's 10 bil paid ads lol. So funny how iPhone will simply get launched and blow it away. S8 has a lot of work to do, especially after the S7 debacle.
?
Samsung Spend $10 billion for marketing, your support is not enough to cover the expenses!
?
Thankfully nobody is forced to buy it. Free world is nice.
ADVERTISEMENTS