The new HTC Bolt took a beating - only 7% of voters believe this is the flagship that will put HTC back on track. About a third say they'll stick to the HTC 10 while more than half the voters are looking elsewhere for the perfect 5.5" phone.
Perhaps the memory of HTC One M9's overheating issues are still fresh in people's memory. The Snapdragon 810 chipset inside the Bolt is most likely a new revision, but an HTC 10 costs $550 and it has Snapdragon 820, so there's no reason for the Bolt to cost $600 and have such an old chipset.
Now, the Bolt is exclusive to Sprint and people may be getting worked up over nothing - HTC still hasn't confirmed the "HTC 10 evo" rumors, an international release of the Bolt. And seeing the cold reception, we wonder if a "10 evo" will ever materialize.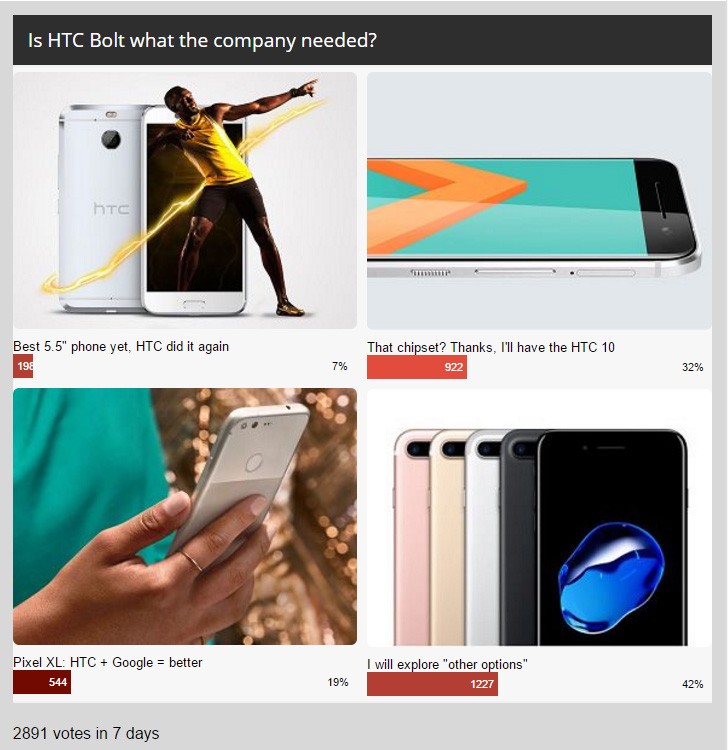 S
I do not accept your judgment. HTC10 evo (Exact same bolt_660 euros) vs Samsung Galaxy C9 Pro (500 euros)_I do not own any of them i use informations which already provided in this website (www.gsmarena.com): C9 pro_Display:6.0 inches fullHD_I ...
r
Use before you judge the phone
D
With current strategy of launching phones with outdated specs, being only reliable is not going to help HTC to survive upcoming years. I am fan of HTC and used HTC One m7 & now on HTC 10. Apart from these two phones I don't see any good phones ...