The improvements brought by iOS 13 are welcomed by many, last week's poll shows. Sure, Android users are feeling ahead of the curve on some of those features, but keep in mind this update will land on the iPhone 6s which will be four years old at that point.
Of course, iOS 13 is geared more towards what modern iPhones need – dark mode does more for OLED than LCD, FaceID was improved (but that doesn't help TouchID) and so on. And it shows what iPhones are going to be like going forward (e.g. no 3D Touch and maybe even USB-C).
Meanwhile, the tablet branch, iPadOS, is getting a fairly warm welcome of its own. Many questioned its ability to replace MacOS, but Apple has been planning for this for a long time. Native Photoshop will keep artists happy, Microsoft Office will work just fine for teams. And, of course, Apple's first party apps handle much of the daily tasks.
It goes deeper – the Swift programming language covers everything from the Mac Pro to the Apple TV. Also, the newly-introduced Swift UI simplifies building interfaces for variously-sized screens so it will help developers create apps that work on both the Macs and the iPads.
Now all we have to do is wait for the new iPhones and iPads to be unveiled, then we'll see iOS 13 in its full potential.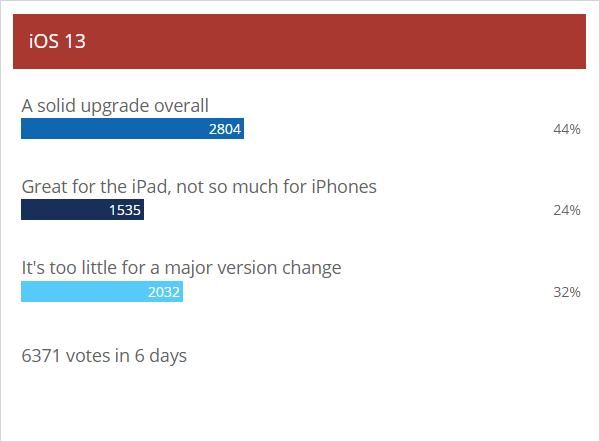 H
The funniest people are the ones saying iOS is boring, or a super closed system compared to Android, yet those people carry multiple devices simply because they know their Android phones cannot replace all the devices that they carry.
F
Why? It will be the same year later ... well maybe not with iOS 13 ... that's right. We'll see.