LG put the blame on the G5 for the poor results of its mobile division. It may be making a turnaround as fans love what they've heard about the LG G6 so far.
More than half the voters in our poll say they love the bezels and the waterproofing, two features that have been officially confirmed by LG. People weren't that worried about the price, but about a quarter of voters will take the "wait and see" approach.
The "removable battery or no deal" contingent was surprisingly quiet, it barely cracked 10%. Apple fans were even quieter. It seems that the G6 will launch to great interest, so this is LG's game to lose.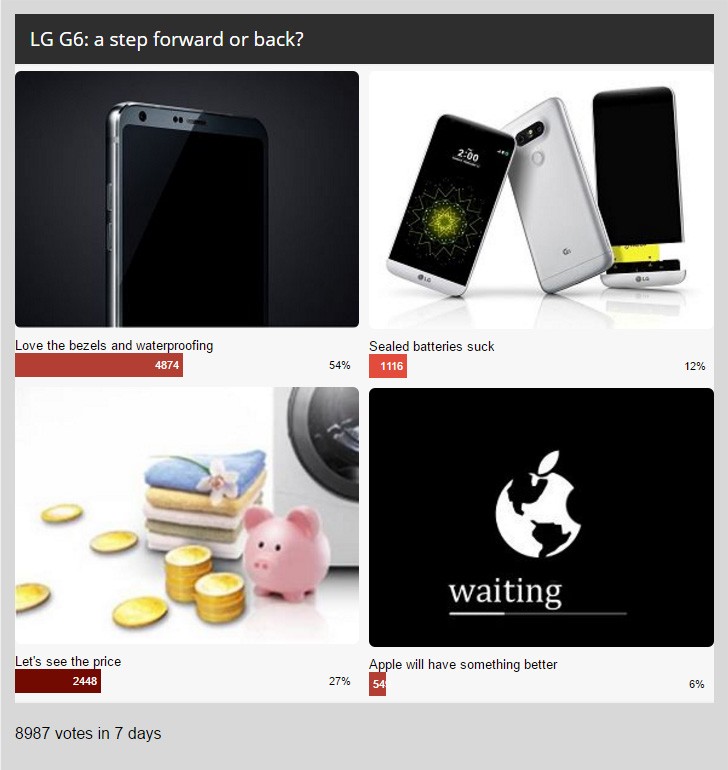 D
Haha. "apple will have something better" apple always lacks innovation..what they have is one of the best markting team in the industry,they can convince you that black is whith and you will fall for it!hehe.while LG has lots of innovation but their ...
?
Note 3 , almost 4 years. I'm in my 3rd battery because I can't stand losing more than 10% of my phone's full charge. BTW talking, about being brain dead. Lithium cells degrade with time no matter what! It happens day to day, but it happens a ...