Voters in our weekly poll showed strong interest in the LG G6, now it's up to LG to turn the hype and early launch into sales. T-Mobile already started shipping pre-ordered units and an unlocked US version is on the way. It's already on sale in Malaysia and coming soon to Canada. Europe will have to wait until late April.
Many commenters were quite happy with the performance of the G6 and so were we. Some brought up the fact that the 2017 flagship uses some 2016 components, but LG will not be alone in this while certain components are in short supply (notably the Snapdragon 835).
Some voiced the opposite opinion, though. Price seems to be an issue, especially in Europe (it's not cheap in Australia either, but that free TV probably makes it easier to take).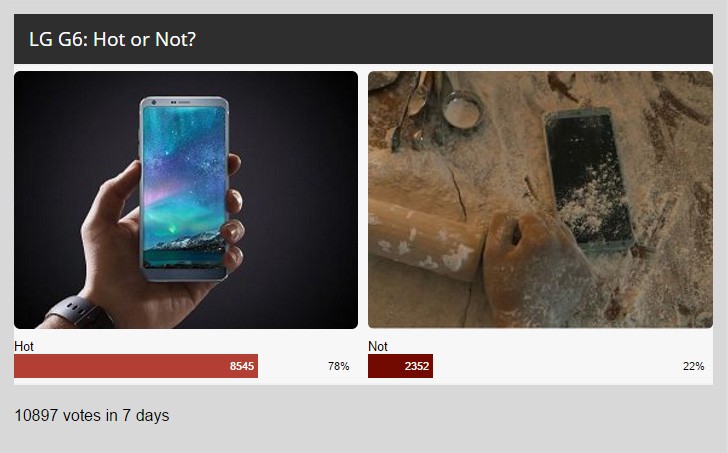 J
Sturdy? Then, all of our everyday item need a drop test according to your logic. Because that is the way to justify its price, right? Expensive handbags cost over £500-1000 need a drop test. Wallet and purses need drop test. Laptop need a...
?
Such the big and tall phone, I don't think people can hand it well, especially the tiny bezel hard to hold firmly. I personal drop my Xperia Z2 many time in 3years usage, so drop test is important not because careless more important is how sturdy is ...
?
amazon .... LG G6 H870 32GB (FACTORY UNLOCKED) 5.7" QHD $ 969 99 FREE Shipping on eligible orders LG G5 Unlocked Phone, 32 GB Titan $ 367 And it's pathetic if you consider the fact that LG G6 is a downgrade, a worse phone than G5.
ADVERTISEMENTS