The LG V10 gathered up plenty of fan love in one short week and was voted seriously hot with the crowd split 3-to-1 in favor. 76% of readers hit the thumbs-up on LG's one-of-a-kind phablet, continuing a positive trend with recent high-end offerings - the Nexus 6P and 5X got the stamp of approval a month ago, followed by the Lumia 950 / 950 XL a week later.
The V10 certainly has some objective imperfections, like the less-than-stellar battery life, sheer size and heft, and not exactly top-tier gaming performance. But in the whole pro-vs-con debate the good has outweighed the bad, and quite definitively so, judging by the poll results.
The secondary display (we know Samsung's done it before), argue as you might about its usefulness, is indeed a unique feature today and makes for some considerable wow-value. Military-grade shock resistance is also a conversation starter in itself, in some circles at least, though we've seen that on a number of occasions too.
Dual front cameras are also good for some bragging rights and then for some actual versatility in selfie shooting. And that's before we get to the hugely-capable rear camera - how can it not be hot to be able to precisely control the directionality of mic input when capturing your 4K videos?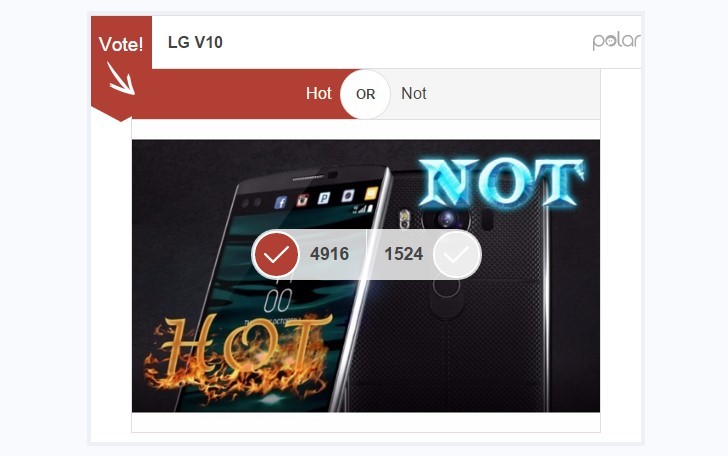 c
I had a samsung nexus, a g3, and finally a g pro2 and all of them died violently on their way learning to fly. so of this military stuff i'm really curious about. Seeing how nice their previous cams were, this is also a definiative step up. For me th...
?
on day 4 with this phone. I'm an LG fan for sure, optimus g pro and g4 previously. Day one I thought the 2nd screen would be useless; by the 4th day it is essential - the calendar on the 2nd screen is killer for those that bounce from meeting to me...
?
The only demerit is the price of this phone as well as that of G4.