Competition between smartphone makers has them pushing the numbers up, up, up and one that increases with each generation is the screen diagonal. And the prestige of a big screen is coupled with big specs while small screen phones are perceived as "low-end" and the specs of phones reflect that.
There's the exception to that rule - super minis, compacts, whatever you call them they are few but famous. The Xperia Z Compact was perhaps the best known of them and this week it got a spiritual successor.
The Xperia X Compact showed that you can have both a 4.6" screen and an awesome camera. Also this week, the ZTE Axon 7 mini (well, a 5.2" mini) joined the cause. And, of course, the iPhone SE upholds the "small but strong" motto over at the iOS camp.
Our poll revealed a vocal group that will eat those up - 75% of people who voted were in support of petite powerhouses.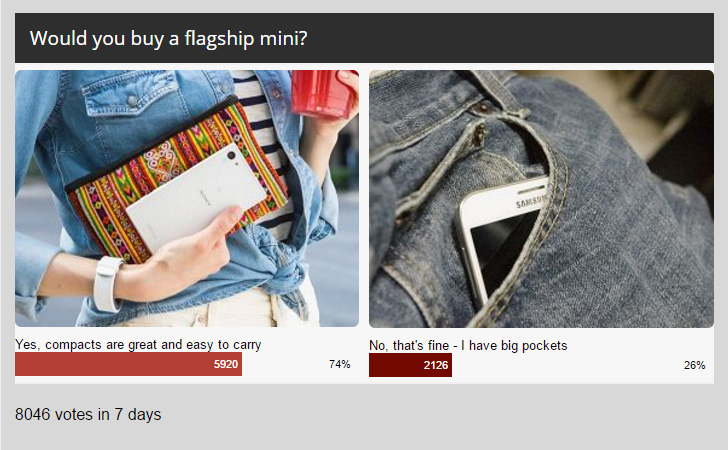 Unfortunately for them, bezels are the bane of a mini - geometry makes sure that equal bezels impact the screen-to-body ratio of small phones much more than on big phones.
Makers are trying - Sony's Xperia XA is the narrowest 5-incher, nubia has a clever optical effect for the "bezel-less" nubia Z11, Samsung's curved screens also reduce the apparent bezels.
And yet, the nubia Z11 mini isn't bezel-less and Samsung is yet to make, say, a Galaxy S7 mini edge (or even just a regular S7 mini). Well, some smartwatches are getting e-SIM cards voice call features, that's as mini as it gets. Though that's probably too much of a good thing.
D
I think manufacturers should make a range of sizes of high speed smartphones from 4 to 6 inches to cater to all..
D
I have two 6inch phones, an a8 pro and a xa ultra, but I am not comfortable with them, to carry or running around, so I use a z5 compact as my main phone. So compact phones are more usable
ADVERTISEMENTS