Weekly poll results: Most people like the Galaxy Note7 the way it is
A week ago we asked you how you felt about the curved-only design of the Samsung Galaxy Note7. The results were mixed - most people love the current design but do wish the 6GB/128GB version was available globally.
About 40% of people voted in favor of a flat Galaxy Note7. About half of those wanted it if it would be cheaper, the other half were worried about grip on the phone that's curved left and right, front and back.
Last year, T-Mobile USA was selling the 32GB Galaxy Note5 for $700, while this year the 64GB Note7 is $850. Even the 64GB Note5 could be found for $812, so the 22% that voted based on price have a point - a flat Galaxy Note7 would have been cheaper. Also, the 128GB model will probably go for $950 if it ever reaches the US, which is steep even for a well-executed flagship.
As for grip, you have to try it for yourselves, we haven't had issues. All the glass and the sliver of metal are slightly slippery, but it's manageable.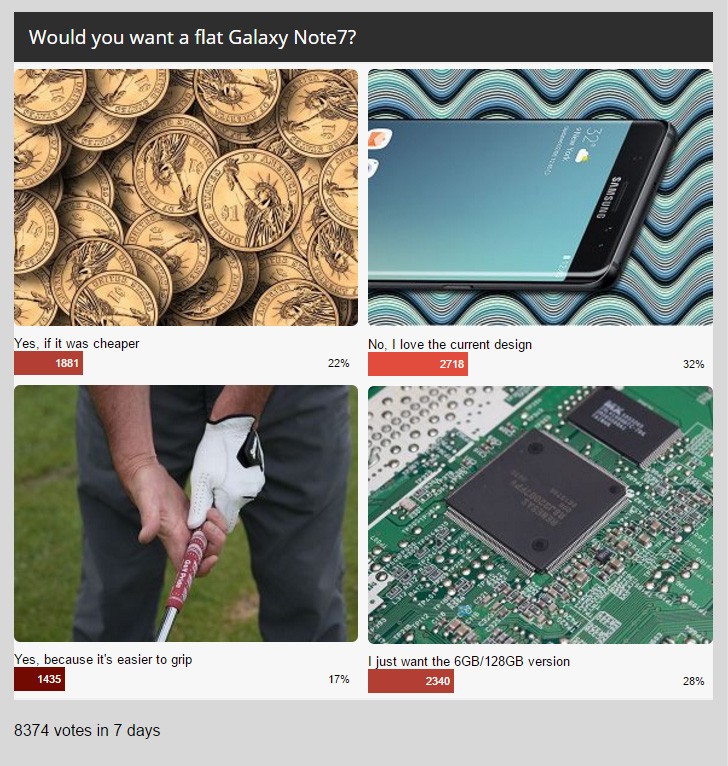 v
contrary to what you say ..i have heard more people complaining of samsung phones..although most of my friends have sammys...iphone is a simple phoone that can be easily remedies by soft resets...i loved the old iterations of the iphone..they were pa...
D
I have 2 intermittent problems with my S6, I have video evidence of them occurring. 1. The phone will "press" the back button repeatedly of its own accord, this can occur even in the factory reset setup screen. 2. The phone will refuse to c...
S
Here in London, you have to rely on so called Nokia/Samsung service centres. They are generally fine but they can only go so far. GS 3 issues with unknown cracking for example, service centre said they have had so many but can't replace the screens (...