Weekly poll results: Nexus dearly missed, Pixel gets the cold shoulder
O Captain! my Captain! rise up and hear the bells;
Rise up—for you the flag is flung—for you the bugle trills,
For you bouquets and ribbon'd wreaths—for you the shores a-crowding,
For you they call, the swaying mass, their eager faces turning;

— Walt Whitman
The overwhelming feeling in the comment section in last week's poll that asked if you'll miss the Nexus line. Some long-time Android users chimed in, going as far back as the one and only T-Mobile G1. There is a general sentiment it was a mistake for Google to try and compete with Apple in the premium market - perhaps not so much because people don't believe it can succeed, but because they will miss the affordable pure-Android phones.
If you care about what software you're running and timely updates, then there are few options left. Even the Lenovo-owned Moto line can't be counted on fully, the year-old Moto G3 isn't getting Nougat (many others are, though). For what it's worth, Verizon promised to let Google push updates without delay and minimal bloatware installed (the 3 apps will be uninstallable to boot).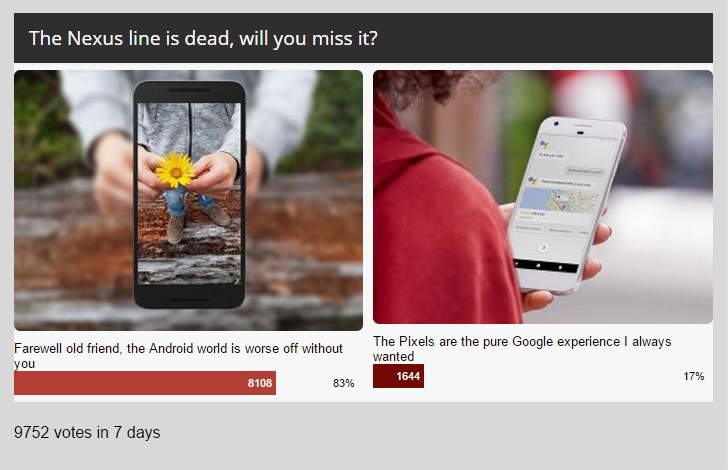 That sounds like good news for the Pixel duo - at least for those that can afford it. Our Hot or Not poll ended in a split vote leaning towards "Dud!" in a 54/46 split.
The comments had a fairly negative attitude - people questioned the pricing (of course), thedesign choices (the glass on the back, the bezels) and missing features (stereo speakers, waterproofing). To quote pramod5774, "Even Honor 8 looks way way better than this expensive piece of bezels."
There's a vocal group of unhappy people. But perhaps Google is targeting a different group. The first group is already thinking of alternatives, the second group is an unproven market.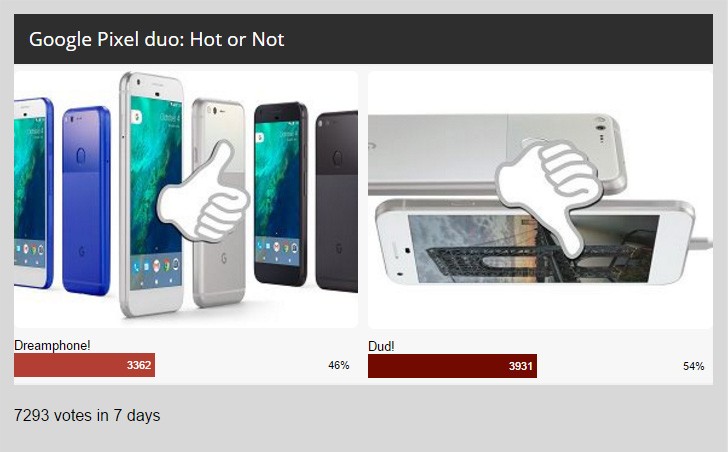 D
I got tired about Android universe. Switched to iOS.
F
Hi, thanks To be honest I don't mind the chin as I wouldn't press keys accidently and somewhere to hold. Another review said it grew on him too. The card slot doesn't bother be as plenty of storage and cloud. Actually my HTC A9 has 190gig with card...