Most people are unimpressed with the OnePlus 5. In our poll, the most popular option was the one that clearly voiced disappointment, 35%. An additional 18% say that the OnePlus 3/3T is still good enough.
In the comments, there's a general sense that OnePlus did not provide enough upgrades and what upgrades it made perhaps aren't the right ones. 8GB of RAM is cool and all, but a waterproof body would have been cooler, you say (and it could have been). Keeping the old screen and not adding a microSD slot also drew some ire.
Still, 33% of voters think that the OnePlus 5 is good enough. Not perfect – that option was the least popular with only 14% of the vote. "Good enough" is faint praise indeed. As one of you pointed out, a similar poll in the OnePlus forums was hardly any kinder to the new flagship (48.8% picked "disappointed").
All these negative responses sound strange, however, as the phone is breaking sales records left and right. It seems that the unhappy people are just more vocal than the happy customers.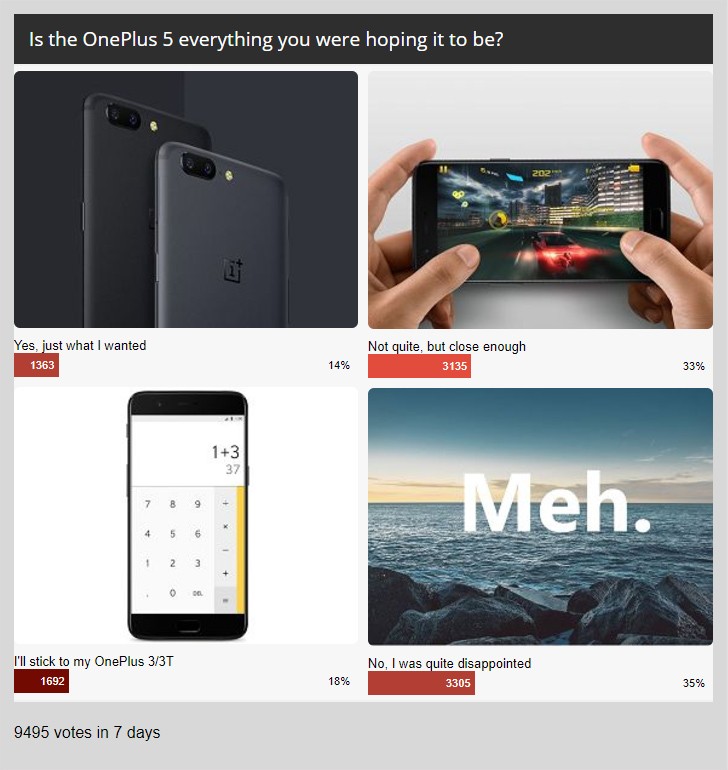 ?
Exactly, this is the company that was caught cheating on benchmarks with the OnePlus 3T and then they did it again on reviewer units with the OnePlus 5 (I guess that wanted to get in on VW's cheating action). Then they were only days later caught lyi...
.
This is OnePlus, any sales record number comes out from the marketing team and not sales team. I wouldn't trust a word they said. Didn't the CEO said 5 will be smaller than 3T? It is actually 2mm taller.
?
I gusse 5 is unlucky for them.