Last week we asked you if your phone is running Android 6.0 Marshmallow. After all, Android N is already on Nexus devices (as a developer preview) and Marshmallow will soon become the "old" version.
The poll results show that a respectable 56% of our readers are running Marshmallow. Of those, the majority received it as an upgrade, but 12% of users got it out of the box.
These results are way above average - Google's numbers show that globally only 7.5% of Android users are on version 6.0. Well done, readers!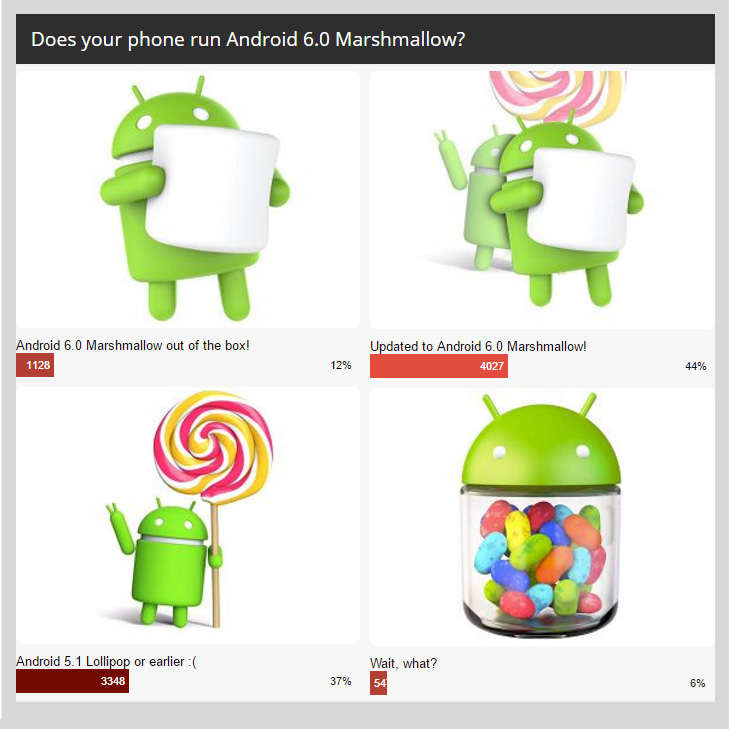 That still leaves a big chunk, 37%, on Android 5.1 Lollipop or earlier. The vast majority of those devices will stay on that version. The Marshmallow-first crowd will likely get upgraded to N at some point, even some of the Marshmallow-upgrades.
Of course, some of you have taken matters into their own hands and flashed CyanogenMod or another ROM to get the coveted update. That path will remain available in the future, but this seems rare in the comment section.
I think these poll results show that smart shopping gets you a phone that has good software support. And I like to think we played a part in helping you make the right decision.
I have a j1 and I have 4.4 I got 3 updated and stil at 4.4 atleast update it to 5.0 besides its a 5.0i think the update might do the phone goo
Anyone knows how much still i have to wait for marshmallow update in my m4 aqua dual
Well then the next big update for you might be the N im sure but im not sure it will make it to your device though.