Weekly poll results: Poco X2 offers good value for money, but isn't a game-changer
Last week's poll shows that the new Poco X2 can't fill the shoes of the original Poco phone. To be fair, the X2 was not supposed to be a direct sequel to the F1 – the company is reportedly working on other models, including Poco F2 and F2 Lite.
But what we have in front of us now is just a rebranded Redmi K30. Some people took issue with that, the "Poco" badge by itself is not worth much.
It seems that the reaction to the phone would have been a lot more positive if the Snapdragon 765G chipset was used (like on the K30 5G). The 730G just doesn't have the graphics hardware to take advantage of the 120Hz screen.
Still, a third of people think that the Poco X2 offers great value for money and that's a success in its own right, considering how cutthroat the mid-range segment has become. 15% even think that the phone is awesome as-is.
However, there's tangible disappointment among the fan base. There's a Redmi K30 Pro on the horizon with Snapdragon 865 (and the same quad camera), so that's one possibility for future Poco hardware. Of course, a brand new design will get a better reception, but we're sure the flagship chipset will go a long way towards making fans of the brand happy.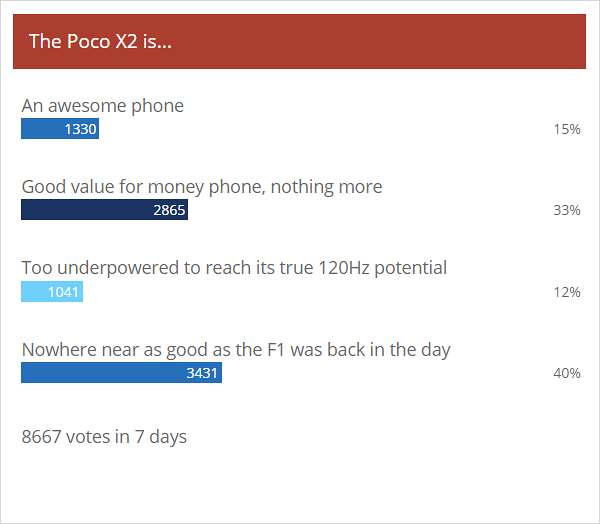 N
Why people comparing it with Poco F1? Poco X1 it a mid-range phone with price starting from 15999 rupees. Poco F1 was a flagship (mainly in terms of performance) with price starting from 20999 rs. Even though price difference is not much but poco f1 ...
?
I dont understand the logic here.. top vote result: nowhere near as good as F1 the article title: Poco X2 offers good value for money *rolling eyes
C
The problem now and the issue then. First devices were as cheap as possible (in every way) and the "company" had no profit, was a flat income and the customer paid only for the crappy materials, emploiys and manufacturing. Of corse a company like tha...