Weekly poll results: Samsung Galaxy A71 outshines its sibling, the A51
Last week's poll shows that Samsung has a potential hit on its hands – the Galaxy A71 received strong support. However, its retail price is yet to be announced, so we'll see how that goes.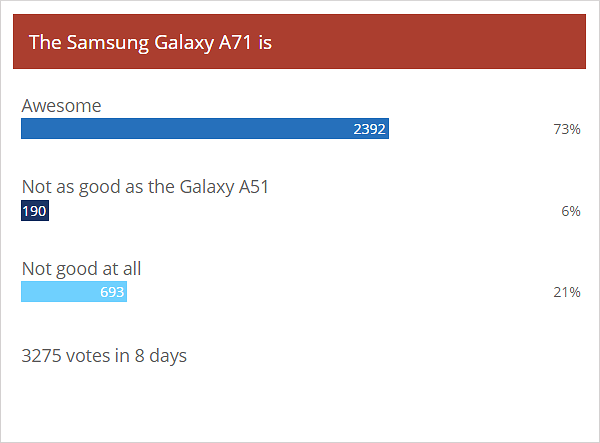 Its sibling, the Galaxy A51, didn't fare as well, only getting 40% positive vote, which was nearly even with the "the A71 is better" option at 35%. We do know the price of this one, $350/€310, which is above the asking price of premium mid-rangers in the Redmi and Realme lineups.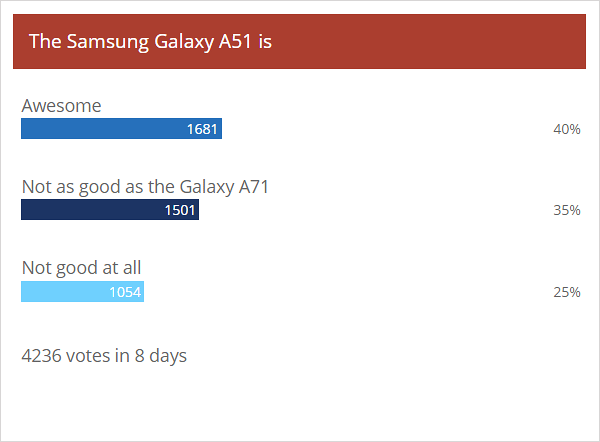 That should be an even bigger worry for the Galaxy A71 as it will inevitably cost more (we described it as the "plus" version of the A51). Still, Samsung's One UI is a big improvement over the old TouchWiz, especially the new version 2. Also, the exterior of both models is based around the design for the upcoming Galaxy S11 flagship, so they should be on trend next year.
The Samsung Galaxy A51 and A71 are just the preview of what's to come from the next generation A-series. Expect to see a Galaxy S10 lite (A91) and Note10 lite (A81) soon, as well as more affordable models going from Galaxy A41 all the way down to the recently unveiled A01.
m
51 and A71 both phone is same price.....????
A
When samsung A51 comming and realese