It's the end of the week, which means it's time to review your votes for our latest Weekly Poll - Is the Galaxy S7 Active hot or not. The Samsung Galaxy S7 Active, quite a niche device, is for the people who find waterproof not good enough.
And while the Galaxy S7 Active is currently sold exclusively only in the USA and only via AT&T, it still managed to earn plenty of fan love. The Galaxy S7 Active was liked buy every 2 out of 3 people.
The tough Galaxy S7 Active is a lot more protected than its S7 sibling, with MIL-STD-810G certification for salt, dust, humidity, rain, vibration, solar radiation, transport and thermal shock resistance, in addition to water-proofing.
The loudest voices from those people who didn't like the S7 Active are about the chunky design and extremely limited availability. Here is hoping Samsung outs the Galaxy S7 Active later this year on more markets.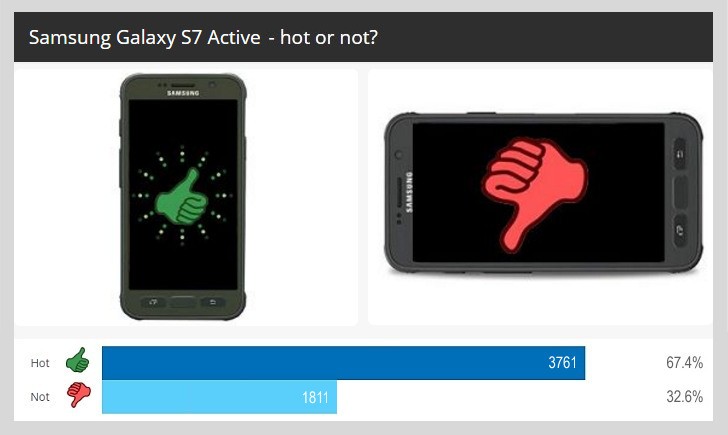 H
Do not get the S7 active. After 30 seconds in the water it only took 5 minutes before the phone broke. Such a disappointment! I had and S5 active and it got wet, dropped, went in water and kept on working. I expected more. i am an outdoor person...
v
those of you looking for a fake "active" look with a case for the s7 edge, but don't have access to one(so..basically about 90% of the s7 aspirants)..go for supcase...it has some nice cases that emulate the active look on an S7 edge..protection from ...