Last week we asked you if you prefer the Samsung Galaxy S8 or the bigger Galaxy S8+ and the opinions seem very evenly split - the S8 won with 52% to 48%, a very narrow margin indeed.
The primary difference between these two is the size (and, well, price). Sure, the plus model has a bigger battery, but that brings only a minor bump in endurance (our testing showed 84h for the S8 and 88h for the S8+).
Normally, the smaller phone outsells the bigger one and we wondered if this will be even more true this year seeing how the Galaxy S8 already has a bigger screen than its predecessor (vertically). Had the Note7 survived, we suspect the smaller phone would have had a bigger edge.
Of course, we have the Note8 to look forward to, dual cameras and all). But that's a poll for about 6 months from now.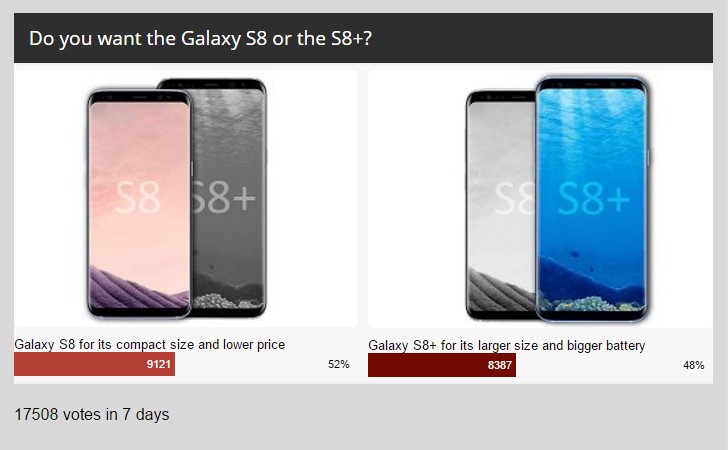 R
My bad! I did not realized and not read the part "not", my apologize for that. I also want you to know that, we (S8 owners/curved screen users) don't read or write anything like a rolled papers... You better experience that thing you talked about. Yo...
D
Thanks! They told me that too. But the thing is... it's always unavailable. Because, you know, Google LOL
D
if you want to have an experience of pure Android then go for google pixel. that's free of bloatwares and you will have a complete stock experience just like you have in apple....