Weekly poll results: Samsung Galaxy S9 and S9+ grab the MWC flagship crown
Samsung's Galaxy S9 and Galaxy S9+ were unchallenged in last week's poll – the duo is the fan favorite of the MWC. With over 40% of the votes, the S9 siblings got more votes than the next two combined.
Surprisingly, Asus clinched second place with the Zenfone 5z – the most affordable Snapdragon 845-powered phone at a price of €480. The 21% result isn't enough to challenge the Samsungs, but the number of positive comments is more than encouraging.
Then there's a tie – Sony's and HMD's competitors both got 17%. The Nokia 8 Sirocco rode a wave of nostalgia (not to mention the well-executed hardware) and it sill wasn't enough to top the Zenfone.
The Xperia XZ2 and Xperia XZ2 Compact are a part of a historically popular brand as well, but the latest redesign didn't spark renewed interest. It seems that moving to an 18:9 screen didn't work out for Sony as well as it has for some other brands (all but the Nokia have tall aspect ratio screens).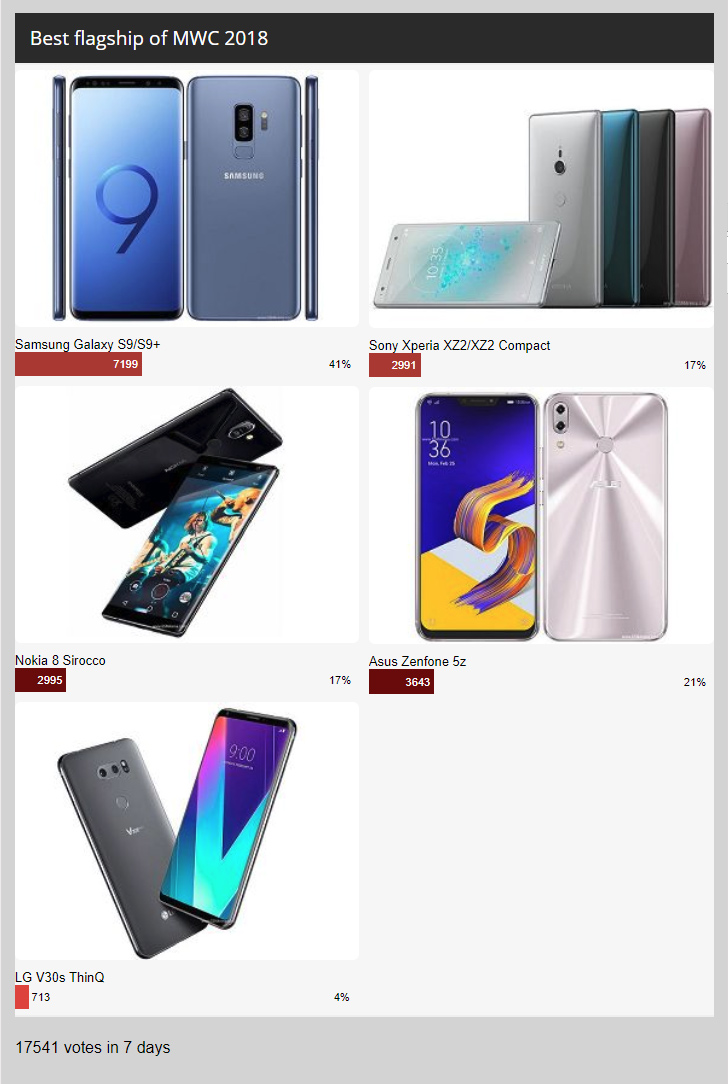 D
The only great improvement the s9 had...was making the iphoneX look better...and i hate apple
D
I am not a fan of any brand of phone or any brand of anything..i dont look at brands...i look at quality for price
3
Repair mark no counted..