There's a growing trend in smartphone design that slices and dices the screen in shapes that stray further and further from the traditional rectangle. Rounded corners are a relatively tiny change and an old one at that (the Palm Pre had rounded corners).
But then companies like LG, Essential and then Apple started cutting off larger portions. LG did it to fit a "secondary screen" on the same line as the selfie camera, Essential just jammed the selfie camera in the top row of the screen and Apple was even more aggressive.
And our readers want none of that – only a quarter of voters are okay with any sort of screen cutout. It's a roughly even split between those who only accept small cutouts and those that will agree to a big chunk of their screen being taken away in the name of a great feature.
Still, the overwhelming portion of the vote – 60% - went to the Rounded corners option. It is curious that the traditional rectangular screen got relatively weak support. We think this means that rounded corners are in as a design element.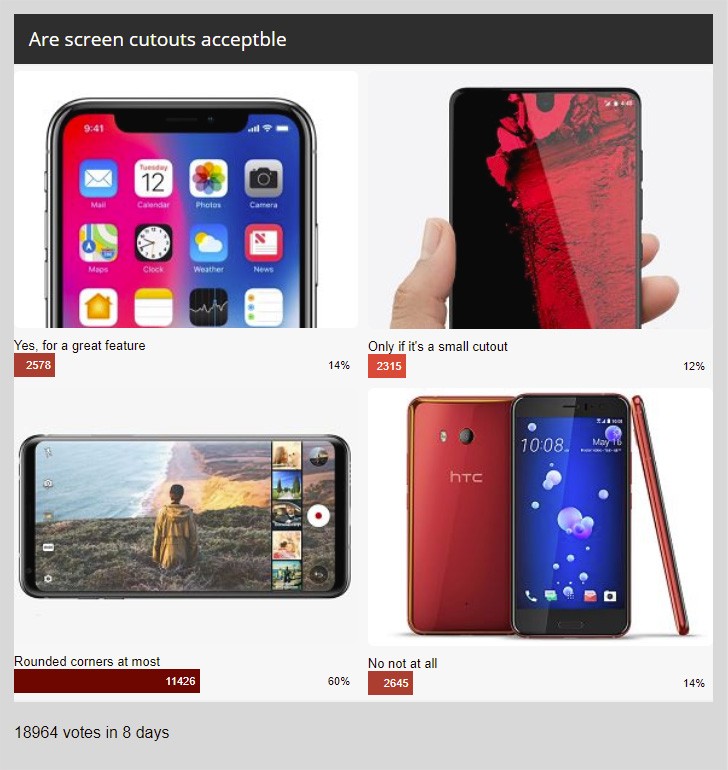 ?
question should have been " will you accept a massive cut out on an iphone, to let the cia map your face"
D
i would like to see oneplus build the next oneplus 6 still having bezels but cornered edges. major brands tend to cut the bezels down but the bezels are still a necessity. Not like sony, they are way to big.