Weekly poll results: the Galaxy S21 Ultra is the favorite, but popularity of the S21 trio is in question
The results from last week's poll are exactly what you would expect – the Samsung Galaxy S21 Ultra 5G is easily the fan favorite of the three S21 siblings. It caught some criticism, but it is still the phone to have for many.
And most of them don't want to wait for reviews, so they already pre-ordered the phone. Others holding off until the price drop. And, of course, some will wait for the phone to be tested – our full review is almost complete, in the mean time you can read or watch our hands-on.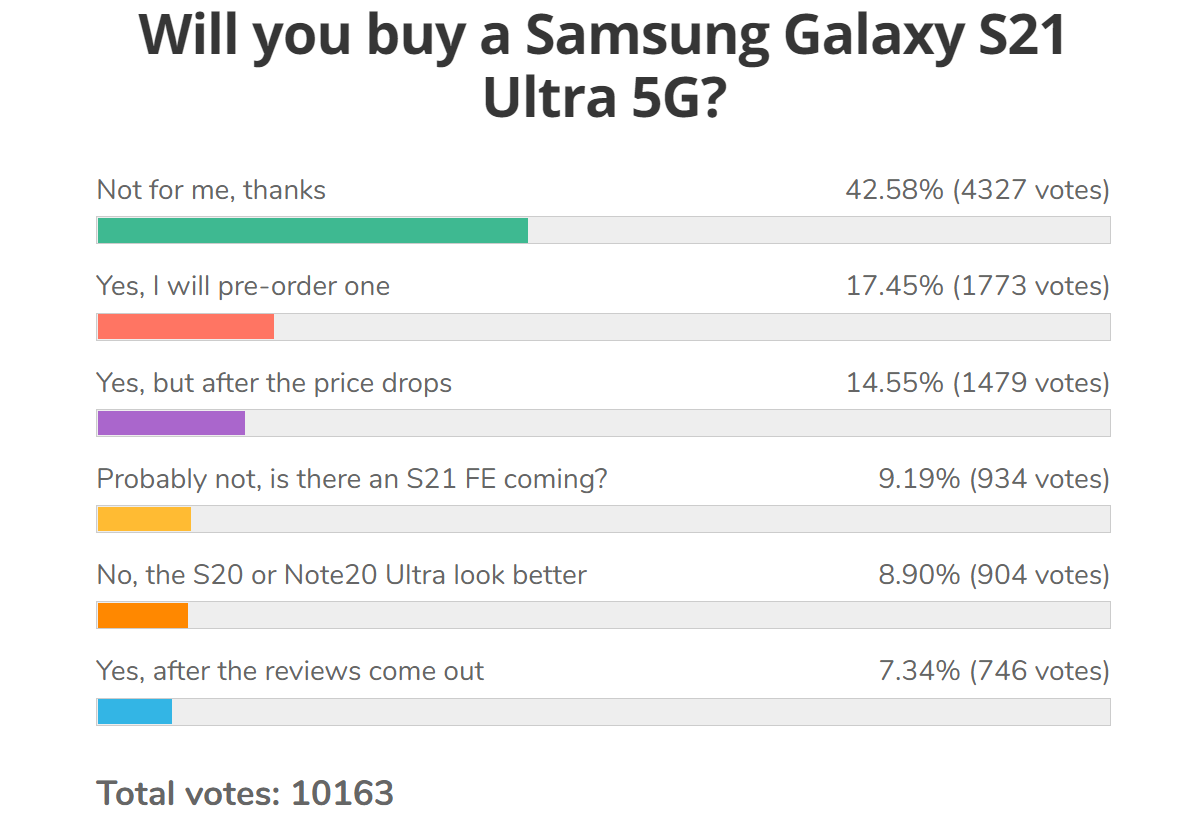 S Pen support is proving to be a welcome addition, though having to slot it in a case is perhaps not the best solution. The removal of the microSD slot was predictably unpopular, people were hoping that at least the Ultra will have one (like with the Note20/Note20 Ultra).
The Galaxy S21 5G was not exactly showered with love, but it won over some defenders with its size and price. It has the same screen resolution and camera hardware as the S21+, so there's little tempting you to get the Plus model. Unless you want the larger display, of course.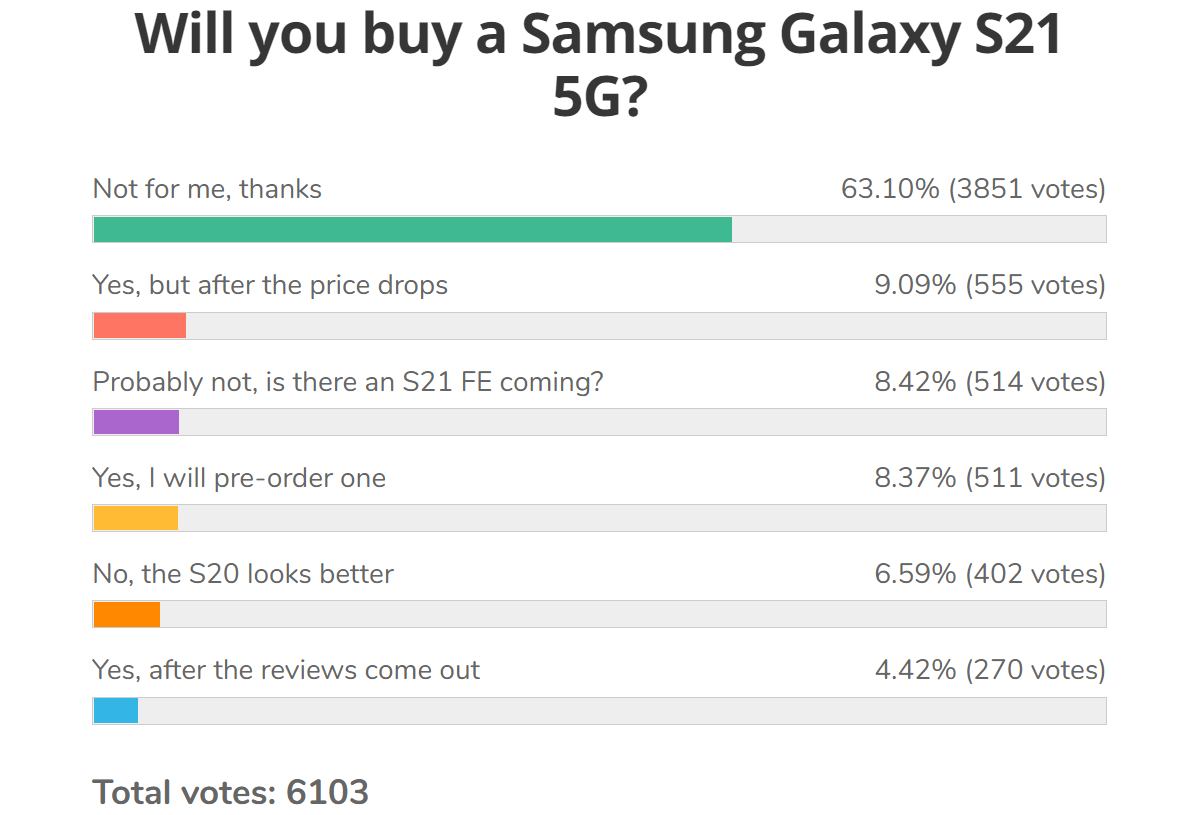 In either case, having a flat panel is a boon. And the plastic back isn't a huge deal since most people will put the phone in a case anyway.
The Galaxy S21+ 5G fared the worst of the three flagships. Some commenters say they already pre-ordered one and are happy with their choice, but most who want an S21+ think the price is too high. At least very few people prefer the older Galaxy S20+, despite the older model having an advantage in screen resolution (and a very similar camera setup).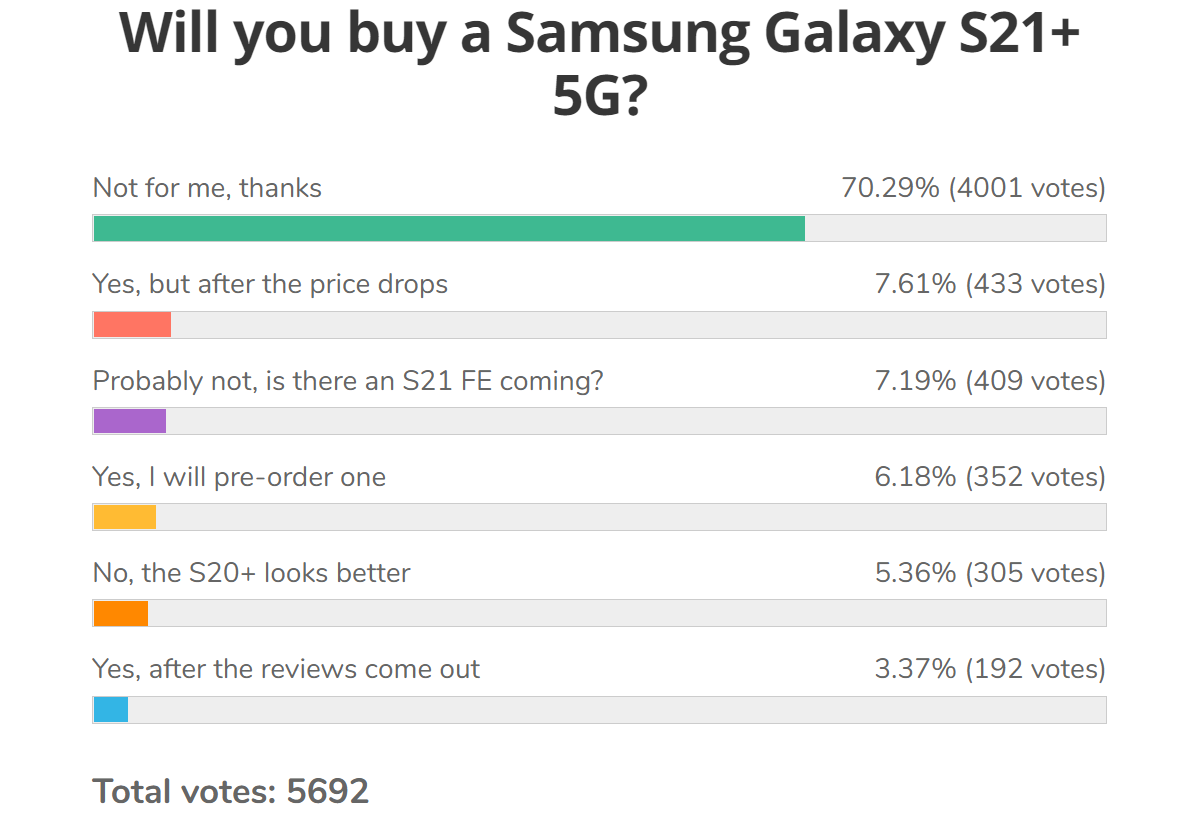 There's interest in an FE version – that was the third most popular option in both the S21 and S21+ polls (and fourth for the S21 Ultra). However, there's no guarantee that we're getting one this year.
Anyway, industry insiders are saying that Samsung is receiving 15-20% more orders for the Galaxy S21 phones compared to the S20 series during the pre-order stages. This is in part thanks to the exclusive colorways available only on Samsung.com (which had the side effect of increasing the proportion of no contract orders).
D
I don't think so. Just telling you their logic. Lol
J
lol you never actually answered WHY you would do that if iPhones don't have reverse wireless charging.
ADVERTISEMENT